Slow Roast Leg of Lamb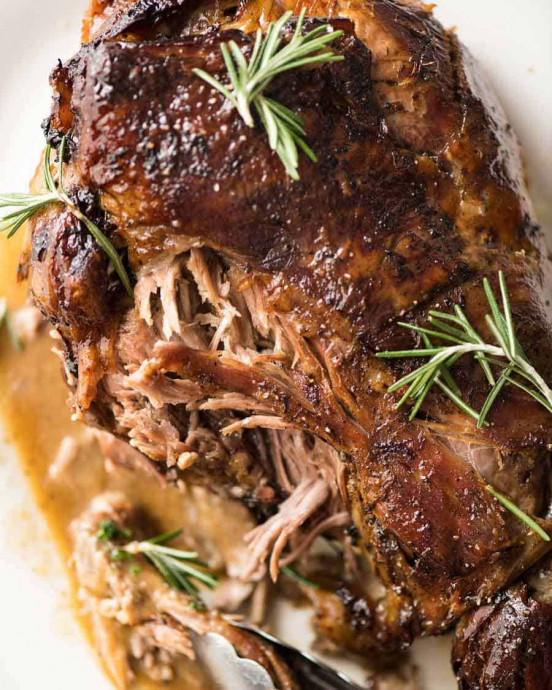 A very forgiving, very easy way to roast a leg of lamb. It's not the carving sort - the meat is so tender, you can pull it off the bone with tongs. Lamb leg is actually quite lean, so the best way to slow roast a leg of lamb is to partially submerge it in liquid and roast it covered for most of the time. This way, the flesh is infused with flavor and absorbs moisture.
This Slow Roast Leg of Lamb is going to take your Sunday roast to a whole new level! It's very easy, and very forgiving. It does take patience, but you'll be rewarded with tender lamb leg that can be pulled off the bone, served with a wickedly delicious rosemary garlic infused gravy.
You won't need a knife to carve this. Just pull the meat off the bone with tongs. And it's amazing. It's forgiving because if the meat's not tender enough, you can just stick it back in the oven until it is – and you can cook for even an hour beyond necessary, and it's still going to be juicy. If the gravy gets too thick, no dramas, just add a splash of water. If the gravy is lumpy, no worries, because in this recipe, it's strained. In short – it's pretty hard to stuff up. If you're a roast lamb first-timer, just give yourself a couple of extra hours because this lamb reheats great in the microwave or oven, as does the gravy. Sunday night roast is never going to be the same again!
Ingredients:
4.5 lb leg of lamb, bone in (or shoulder)
Salt and pepper
1.5 tbsp olive oil
1 whole garlic head, unpeeled, cut in half horizontally
1 onion, quartered (unpeeled is fine)
2 rosemary sprigs (2 = whisper of rosemary flavor, 4 sprigs = stronger flavor)
3 cups (750 ml) beef stock/broth, low sodium
2 cups (500 ml) water
GRAVY:
4 tbsp (50g) flour (white)
1 cup (250 ml) water
Salt and pepper, to taste