Homemade Pita Bread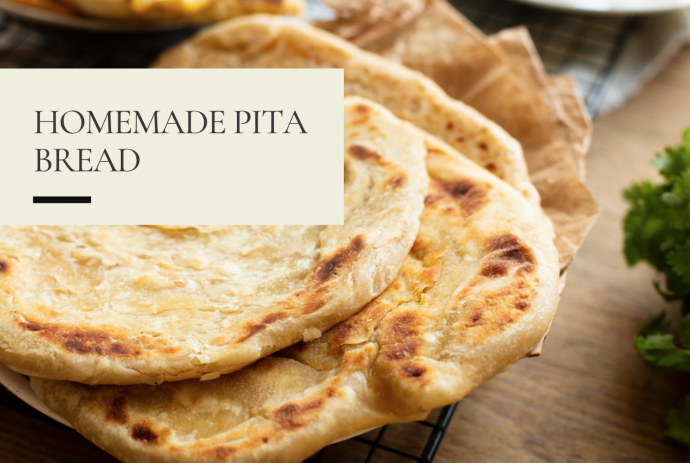 Making your own homemade pita bread is both easy and inexpensive. No need to pay the grocery store markup. Pita bread is simple to make, puffs up like a balloon, and like most other breads, it is best enjoyed fresh, with your favorite vegetables, beans, chicken, and more! The variations are endless! Enjoy!
Ingredients
1 tablespoon instant dry yeast or active dry yeast
2 1/2 cups warm water
1/4 teaspoon sugar
6 cups all-purpose flour
1 1/2 teaspoon salt
3 tablespoons olive oil
Directions
Step 1
In the bowl of a stand mixer, combine the yeast, water, sugar, and 3 cups of the flour to form a sponge. Let the sponge rest for 10 minutes. Mix in the salt and 2 tablespoons of the olive oil.
Step 2
Add the remaining 3 cups of flour a little at a time until the dough forms a nice ball. Knead on a medium speed for 5 minutes. It should get nice and smooth, shiny, and elastic.
Step 3
Use the remaining 1 tablespoon of olive oil to oil a large bowl. Roll the dough in the oil, put it in the bowl, cover with a towel and let rise for 2 hours.
Step 4
Preheat an oven to 500 degrees with a baking stone (if you don't have one, just put a baking sheet in the middle).
Step 5
Divide the dough into 12 pieces. Roll into 8-inch rounds. Let the rounds rise for 20 min. Just before cooking, roll each piece out into an 8-inch circle.
Step 6
Cook in batches 2 at a time on the baking stone. They should puff up and brown in 3-5 minutes.
Step 7
Remove from the oven and wrap them in a clean dish towel and put them in a plastic bag to keep them soft and fresh.
Bon Appetit!