Coconut Cream Pie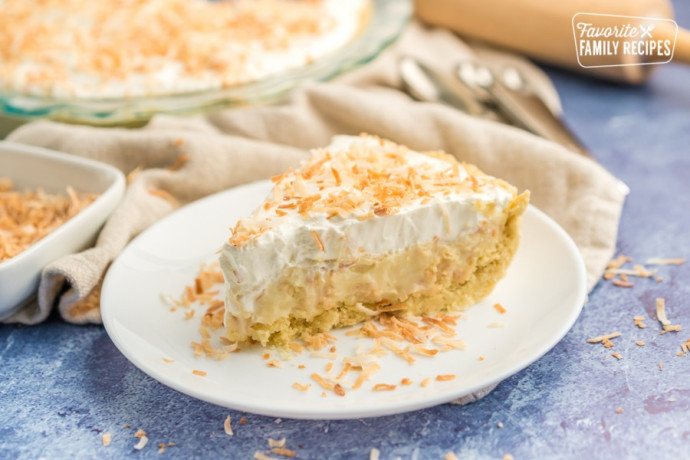 Coconut Cream Pie is a silky smooth dessert with a flaky crust and a coconut filling, topped with coconut whipped cream and toasted coconut sprinkles.
This coconut cream pie is by far the best I have ever had. The filling is made from scratch – never with a pudding mix. It makes all the difference! It's better than anything you can get at a store. Homemade always tastes best, and this couldn't be more true with this recipe. It is rich and creamy and full of coconut flavor. Everyone will think you put more time into it than you actually did. It is perfect for a family gathering or Easter dinner. To quote one of our readers, "Hands down the best coconut cream pie I have ever made and tasted!"
A delicious variation on this recipe is to top the coconut cream layer with meringue instead of whipped topping. If you prefer meringue to whipped topping, this works beautifully on the Coconut Cream Pie.
Ingredients:
1 1/2 cups half-and-half
1 1/2 cups coconut milk a little less than 1 can
2 eggs
3/4 cup sugar
1/3 cup corn starch
1/4 teaspoon salt
1 cup flaked coconut toasted
2 teaspoons coconut extract or vanilla extract
9 inch pie shell baked (see above for our pie crust recipes)
TOPPING:
1 pint whipping cream the kind you have to whip yourself, not the pre-made, frozen stuff!
1/4-1/2 cup powdered sugar to taste
2 teaspoons coconut extract