Birds Nest Cookies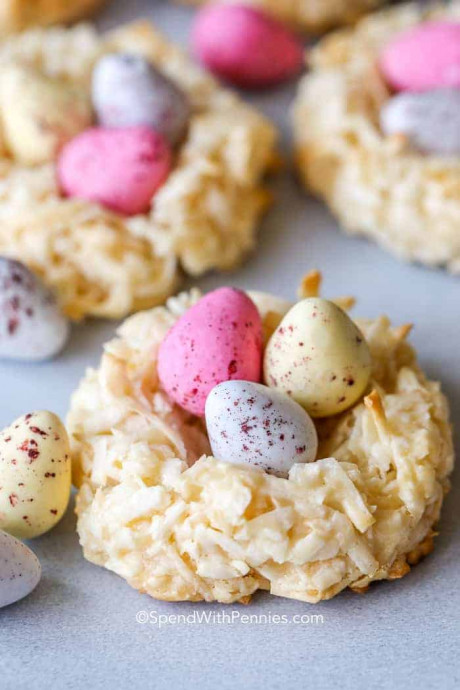 Adorably cute birds nest cookies are so fun for Easter! And if you are a coconut fan, these little coconut nests are pure chewy goodness!
Next to a nice glazed ham, deviled egg chicks, and Easter themed sugar cookies, these sweet treats are one of our favorite recipes to make together during Easter.
Even though this Easter birds nest cookies recipe is normally made for Easter, don't forget, these little nests can be filled with red and green chocolate candies for Christmas or even black and orange jelly beans for Halloween!
Add some cocoa for a different version of chocolate bird egg nest cookies and fill with peanut butter candies or white chocolate chips! The options are endless, get creative! These festive little Swedish birds nest cookies only use 6 ingredients and are super fun to make with the kiddos!
Ingredients:
90 candy coated chocolate eggs
⅔ cup flour
5 ½ cups sweetened flaked coconut
14 ounces sweetened condensed milk
1 teaspoon vanilla extract
pinch of salt