Easter Dinner: Best Ever Beef Wellington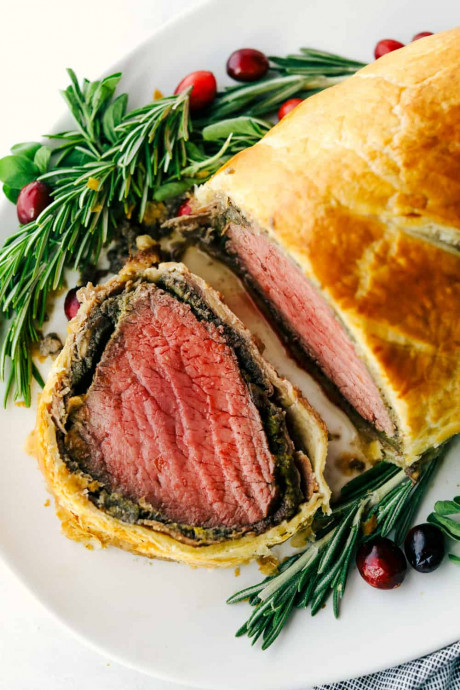 Best Ever Beef Wellington Recipe is a decadent tender and juicy beef tenderloin with a layer of mustard, mushroom duxelles and prosciutto wrapped in a soft, buttery pastry that is cooked until golden brown. A holiday favorite!
Impress your family with this rich, decadent meal for the holidays. This beef Wellington recipe is sure to please your family and friends this Easter. It is a special cut of meat that is to be celebrated on. Beef Wellington is known to be a decadent meat with an amazing presentation. The combination of a thick, juicy beef tenderloin, special duxelles and prosciutto all wrapped in a pastry shell is pure heaven.
Beef tenderloin is already know to be the most tender cut of beef and wrapping it in more ingredients creates a perfect holiday meal. Don't let these ingredients scare you off, this is a simple recipe that will come together beautifully! Beef Wellington is originated in France and is a main dish. It is an elegant and decadent meal that is saved for special occasions. Beef Wellington is a nice cut of meat, usually a fillet steak, beef tenderloin or filet mignon. It is the center cut portion of the meat that is known to be the most tender and juicy part of the cow. This decadent meat is sometimes on the pricy side and is made for special occasions or holidays. If you have not had it before it is so delicious and one amazing meal when it is complete.
Ingredients:
2-3 pound beef tenderloin
salt and pepper
2 Tablespoons olive oil
Mushroom Duxelles
1 pound mushrooms we used Bella
1/4 cup onion chopped
3 cloves garlic
6-8 slices prosciutto
3 Tablespoons yellow mustard
1 sheet puff pastry thawed if using frozen
2 eggs beaten