French Lemon Cream Tart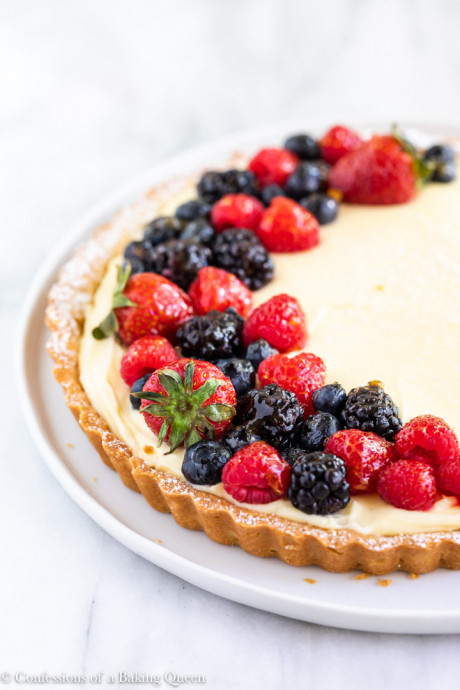 Creamy, tart, full of citrus flavor this french lemon cream tart is for citrus lovers. Sweet shortcrust pastry is filled with sharp citrus cream. There are a million ways you can make a lemon tart. You could make a lemon curd filling, you could make a lemon-infused mascarpone, cream cheese, or whipped cream filling, or you could make a delicious French lemon cream filling.
This lemon cream filling is not made with any cream, ironically. Well, it's made with plenty of butter, which is from cream, so there you go.
The filling is just sweet enough, beautiful tart, fully of a strong citrus flavor, and it melts in your mouth. I advise you to assemble the day you are going to serve it. Due to the cream filling sitting on the crust will soften the crust. You really want the crunchy, crispy, pate sucree against the smooth cream filling.
Ingredients:
Tart Shell, Baked (Sweet Shortcrust Pastry)
200 Grams (1 Cup) Granulated Sugar/ Caster Sugar
3 Tablespoons Lemon Zest, roughly 3 medium lemons
4 Large Eggs
6oz (¾ Cup) Lemon Juice, fresh squeezed, roughly 5 medium lemons
10.5oz (1 Cup + 5 Tablespoons) Unsalted Butter, at room temperature cut into 20 pieces