Condensed Milk Pound Cake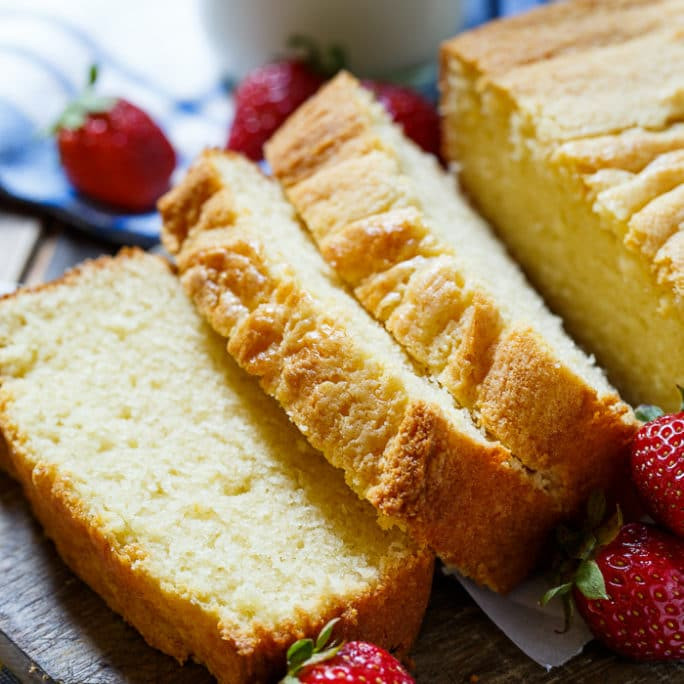 Condensed Milk Pound Cake is a buttery, rich, and dense pound cake sweetened with sweetened condensed milk. Topped with whipped cream and fresh berries, it makes a delightful summer dessert. With just the right amount of sweetness, Condensed Milk Pound Cake also makes an indulgent breakfast with a cup of coffee. It would be perfect for cubing and forming into a trifle for the 4th of July with lots of strawberries and blueberries and whipped cream.
Only your basic pound cake ingredients are needed for this cake plus a can of sweetened condensed milk.My favorite way is to grab a spoon and go to town. Sweetened condensed milk does taste like the nectar of the Gods so why not just eat it plain?
Or you can add it to your coffee, smoothie, or oatmeal. Drizzle it on pancakes or waffles. Or cut some fresh peaches in half, drizzle them with sweetened condensed milk and roast them until the sugar starts to caramelize.
Ingredients:
1 1/3 cups all-purpose flour
3/4 teaspoon baking powder
1/2 teaspoon salt
1 cup (2 sticks) butter, softened
1/2 cup sugar
3 large eggs
3/4 cup sweetened condensed milk
1 1/2 teaspoons vanilla extract
1/4 teaspoon almond extract