Grilled Chicken Blue Cheese Salad with Apples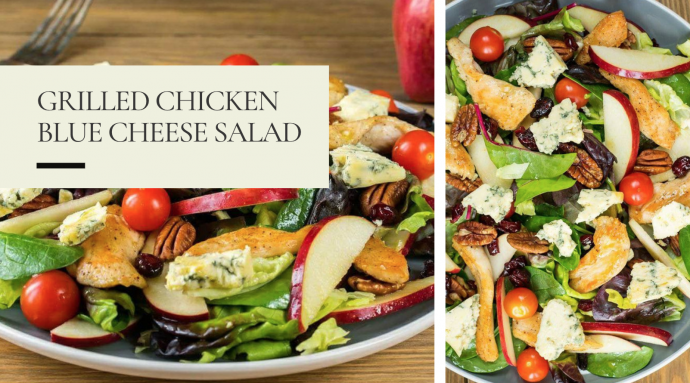 This loaded grilled chicken salad is so delicious, has so much flavor and comes together in minutes! An easy low-carb weeknight dinner for the whole family, this salad works great as a party pleaser for gatherings, too!
Skinless chicken breasts are often derided as dry and bland. But I love pounding them and then grilling them until juicy. This is perfect as a main dish, but you could easily take the grilled chicken off and serve it as a side.
Ingredients
4 boneless, skinless chicken breast halves, pounded to an even ¼-inch thickness
2 cups lettuce, chopped
1⅓ cups arugula
1 cup radicchio
1 avocado, halved, pitted, peeled, and diced
1 apple
1 cup pecans
Red Wine Citrus Vinaigrette
1¾ ounces blue cheese, crumbled (⅓ cup)
3 tablespoons chopped fresh mint leaves
2 tablespoons chopped fresh tarragon leaves
1 tablespoon chopped fresh thyme leaves
1 teaspoon finely grated fresh lemon zest
½ teaspoon freshly ground black pepper, plus more to taste
¼ cup extra-virgin olive oil
Sea salt to taste
Directions
Step 1
Heat your grill to high. Carefully grease the grill grate with oil.
Step 2
In a small bowl, combine the mint, tarragon, thyme, zest, pepper, and oil. Generously season the chicken with salt, then rub the herb oil all over. Grill the chicken, turning once, until just cooked through, about 3 minutes. Transfer to a cutting board and let rest while you make the salad.
Step 3
In a large bowl, gently toss the greens, avocado, apple, and pecans with the vinaigrette until well mixed.
Step 4
Divide the salad among serving plates. Slice the chicken and divide among the salad. Sprinkle the cheese over the chicken. Serve immediately.
Bon appétit!