Curried Roast Parsnip Soup with Vegetable Chips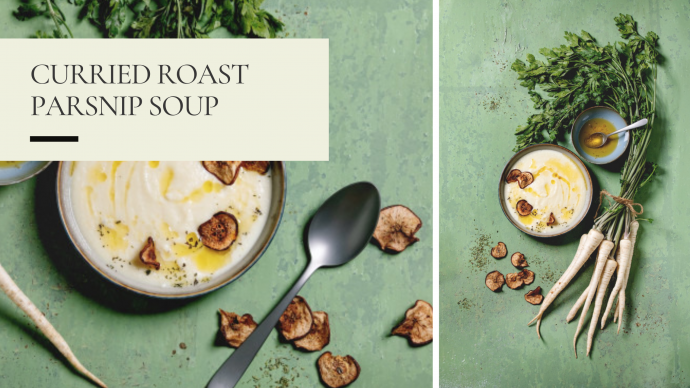 This Curried Parsnip Soup is a delicious warming soothing soup, very easy to make, and perfect for a fall weeknight. Served with crunchy vegetable chips, this soup is great starter for lunch, or a simple dinner for any special occasion.
Ingredients
2 tbsp olive oil
1 onion, roughly chopped
2 cloves garlic, thickly sliced
2oz parsnips, peeled, cut into chunks
3 sprigs fresh thyme
3 tbsp honey
1-2 tsp hot curry powder
salt and freshly ground black pepper
4 cups chicken stock (vegetarians may substitute vegetable stock)
16fl oz double cream
For the vegetable chips
vegetable oil, for deep-frying
½ parsnip, peeled
½ beetroot, peeled
½ turnip, peeled
½ carrot, peeled
To serve
9fl oz double cream
½ lemon, juice only
Directions
Step 1
Preheat the oven to 400F.
Step 2
Place all the soup ingredients except stock and cream into a roasting tray. Mix well and season with salt and freshly ground black pepper. Place into the oven to roast for 25-30 minutes, until golden and tender.
Step 3
Place all but 9fl oz of the chicken (or vegetable) stock into a saucepan over a high heat. Add the cream and, once boiling, reduce the heat to simmer.
Step 4
Add the roasted parsnips and continue to simmer.
Step 5
Pour the remaining stock into the roasting tray and place over a high heat. Stir well, scraping at the browned bits on the base of the roasting tray to release all the flavor, then add this sauce to the simmering soup.
Step 6
Remove from the heat and allow to cool slightly, then transfer into a food processor and blend until smooth. Return the soup to the pan and season, to taste, with salt and freshly ground black pepper.
Step 7
Meanwhile, for cooking the vegetable chips, preheat a deep-fat fryer to 375F. (Caution! Hot oil can be dangerous! Do not leave unattended.)
Step 8
Using a potato peeler, peel long strips of each of the vegetables. Carefully add the vegetable strips into the oil and fry until golden. Remove with a slotted spoon and drain on kitchen paper.
Step 9
To serve, place the cream into a bowl and whip lightly until soft peaks form when the whisk is removed. Add the lemon juice and fold into the cream.
Step 10
Serve the soup in a bowl with a dollop of cream in the center and a small pile of vegetable chips placed over the top.
Garnish with greens and serve right away!
Enjoy! Bon appetit!