Honey Walnut Shrimp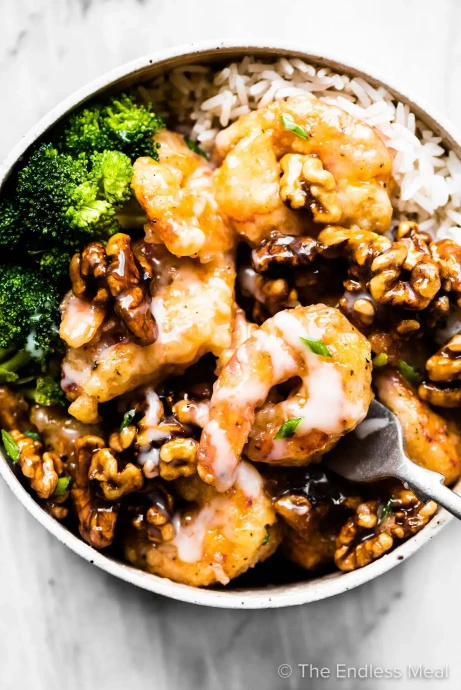 Honey walnut shrimp is the best recipe. The shrimp are breaded in egg and starch then quickly pan-fried until crispy. Then they're coated in a sweet and creamy honey sauce and tossed with candied walnuts. This healthier than Panda Express version is refined sugar-free and absolutely delicious! 5 reasons this is the best honey walnut shrimp recipe: The shrimp are deliciously crispy. And the creamy and sweet sauce is ever so slightly tangy.
Made with all real ingredients. You won't find condensed milk and pounds of sugar in this recipe. But that can be our little secret. No one will guess that this is a healthier version. The honey candied walnuts are such a treat that you'll want to make extra to snack on. ← please promise you'll make extra! It's a versatile recipe. Serve it as a hot appetizer or turn it into dinner with some rice and broccoli. Either way, you'll love it!
Once the shrimp are fried, they're best eaten right away. But both the sauce and the candied walnuts can be made several days in advance.
If you'd like to serve this as an appetizer for friends, serve the sauce on the side. That way people can dip the shrimp and you don't have to worry about them becoming soggy if left out for a little while.
Ingredients:
The candied walnuts
2 tablespoons honey
2 tablespoons water
½ cup walnut halves
The sweet sauce
½ cup mayonnaise (can be light mayo)
3 tablespoons honey
2 tablespoons plain yogurt (thick yogurt works best)
The shrimp
½ cup tapioca starch or cornstarch
½ teaspoon each: salt and pepper
1 large egg + 1 tablespoon water, whisked
1 lb. Uncooked, peeled shrimp (about 30)
Neutral-flavored oil (such as avocado or canola) for pan-frying (see notes)