Baked Plantain Chips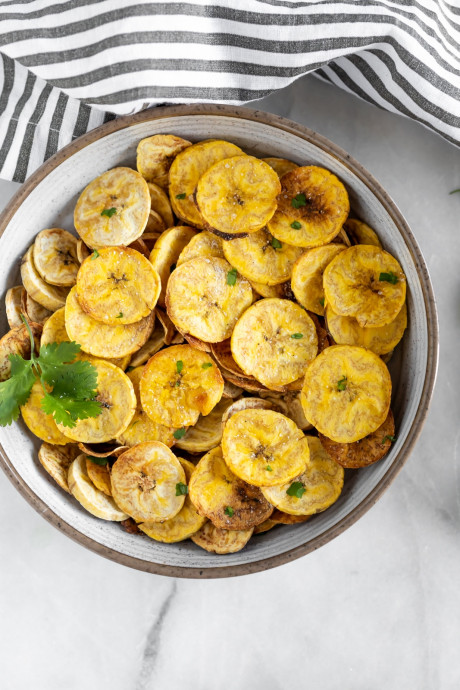 This easy, baked plantain chips recipe will show you how to make crispy, salty plantain chips in the oven and along with a garlic dip! Plantain chips are sliced green plantains, baked or fried, to perfection. Plantains are part of the banana family.
When you buy green plantains, you can either make savory dishes, like tostones. Or if you wait for the plantains to ripen, you can make sweet plantains (or maduros). Both from the same vegetable! For these plantain chips, we need green, unripe plantains.
How to make garlic dip? Add vegan mayo, garlic cloves, almond milk, lime juice, salt, and pepper into a food processor. Blend it up and taste and adjust salt. That's all folks. This is such a deliciously easy snack for any occasion! The garlic dip tastes super garlicky and the consistency is similar to store-bought onion dip. It's so good. Can't wait for you guys to make it!
These homemade plantain chips are healthier than the store-bought kind. They are vegetarian and Whole30. They are also a rich source of fiber, vitamins A, C, and B-6, and the minerals magnesium and potassium.
Ingredients:
2 green plantains peeled and thinly sliced
Avocado oil spray
Salt to taste
Vegan Garlic Dip
1/2 cup vegan mayonnaise
5 cloves garlic
1 tablespoon Unsweetened Almond Milk
1 tablespoon fresh lime juice
Salt + pepper to taste