Chocolate Cream Pie in a Jar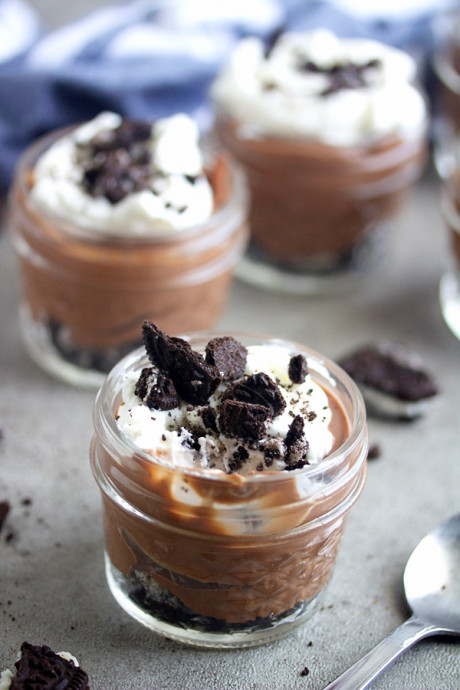 This Chocolate Cream Pie in a Jar is outstanding! Made from scratch decadent chocolate pudding, topped with sweetened whipped cream and crushed Oreos for the crust. Dessert just got even better. You guys, I'm here to tell you that after making this Chocolate Cream Pie in a jar, I learned something very important - chocolate pudding is so underrated! This is decadent, delightful and absolutely delicious! This dessert needs to be in your life.
I promise you that you won't regret making this. It's so simple to make, and can be ready to go into your fridge to chill in about 15-20 minutes. If homemade pudding has always terrified you, don't let it anymore. It really is so easy to make. Everything about homemade pudding is so much better than boxed kind, the texture, the taste, etc. It's fantastic!
This chocolate pudding is not super sweet and definitely has a deep chocolate flavor. I am a huge fan of anything milk chocolate, but absolutely love the deep, less sweet taste this chocolate pudding has. By the time you add the Oreos and the sweetened whipped cream, the deep chocolate flavor of this pudding is amazing and balances out the sweetness of the Oreos and whipped cream. But, if you a more sweet pudding, then yes you can substitute different chocolate in this recipe. Maybe use half milk chocolate and half semisweet. You can play around with it if you want.
Ingredients:
2 1/2 cups half-and-half
6 tablespoons sugar, divided
Pinch of salt
6 large egg yolks
2 tablespoons cornstarch
6 tablespoons butter, cut into pieces
6 ounces semisweet chocolate, chopped
1 ounce unsweetened chocolate, chopped
2 teaspoons vanilla
12 Oreo cookies, broken into coarse crumbs, divided
1 cup whipping cream, sweetened and whipped