Garlic Herb Bread Wreath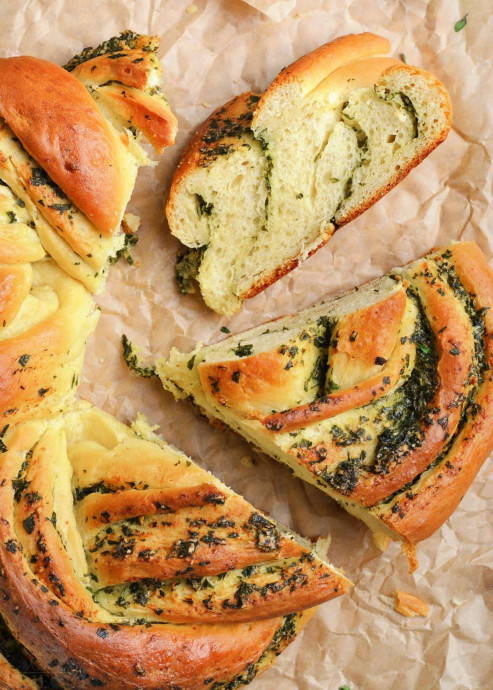 This Garlic Herb Bread Wreath is equally delicious and gorgeous! Made with Parmesan cheese, garlic, and fresh herbs. Super impressive to serve for special occasions yet easy enough to pair with your favorite weeknight dinner. Incredibly impressive and equally delicious, this amazing Garlic Herb Bread is a welcome addition to any menu. It's a favorite for the holidays but is easy enough to serve alongside a simple weeknight dinner like this Slow Cooker Spaghetti Sauce.
This bread looks super fancy because it is twisted together and then formed into a wreath. I show you below how to accomplish this step by step and trust me, you can do it! It's so much easier than it looks.
Serve it to your friends and family and let them marvel at your baking abilities. It's up to you if you want to let them in on the secret of how easy this bread really is to make. When you need the perfect side for holiday dinner or just want to jazz up a weeknight, this bread is perfection. The flavors of garlic and herb pair perfectly together! Garlic Herb Bread is a yeasty bread combined with a buttery, herby, garlic mixture that tastes like heaven. My version is twisted into almost a braid-like shape and then pulling it together to form a wreath. It is a fantastic side dish to serve with pasta, soup, and other main course meals. You can also eat it as an appetizer with a side of marinara sauce.
Ingredients:
3 1/2 to 4 cups all purpose flour
3/4 cup whole milk 110°F to 110°F
2 ¼ ounces instant yeast 1 packe
1 teaspoon salt
2 tablespoons honey
3 large eggs room temperature
8 tablespoons butter softened, divided
1/4 cup parmesan cheese freshly grated
2 cloves garlic minced
1/3 cup fresh parsley finely chopped
2 tablespoons fresh basil finely chopped
1 tablespoon fresh sage finely chopped
1 tablespoon fresh thyme finely chopped