Parmesan Crusted Squash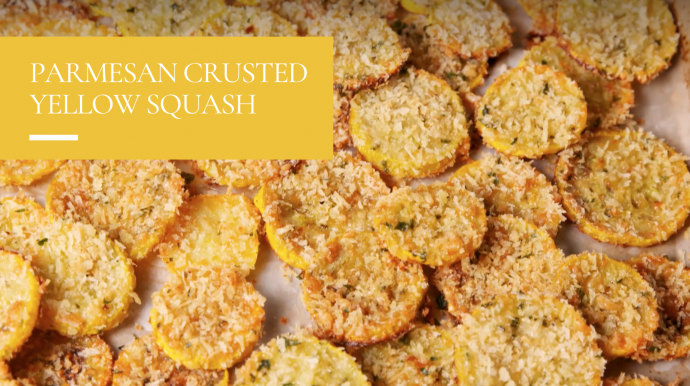 This crispy Parmesan yellow squash recipe is possibly the easiest side dish of all time (and it takes just 20 min to cook), and a great way to use up garden veggies! I know, too often squash ends up watery and soft. By cooking the squash on a rack, I release the water and give the squash an almost fluffy texture. The cheese creates a crisp, savory crust that makes this dish irresistible. I have a hard time not eating the entire batch single-handedly. You can also use zucchini for this recipe. Enjoy!
Ingredients
4 small yellow summer squash, trimmed and cut at a slight angle into 1½-inch pieces
2 tablespoons extra-virgin olive oil, plus more to taste
1 teaspoon sea salt
½ cup freshly grated Parmesan cheese, plus more as needed
Lemon wedges
Freshly ground black pepper
Directions
Step 1
Preheat the oven to 375°F. Set a wire rack on a rimmed baking sheet.
Step 2
In a large bowl, gently toss the squash, oil, and salt until the squash is evenly coated. Arrange the squash in a single layer on the rack, spacing the pieces at least ½ inch apart. Sprinkle the cheese evenly over the squash. Each piece should have a generous coating.
Step 3
Roast until the cheese is golden brown and the edges of the squash are dark brown, about 16 minutes. You don't have to turn the pieces, but do keep an eye on them. Remove from the oven and let the squash cool on the rack for 10 minutes.
Step 4
Use a metal spatula to transfer the squash to a serving dish. Squeeze lemon juice over the top, then drizzle with a little oil. Season with black pepper and serve immediately.
Bon Appétit!