Restaurant Style Fried Rice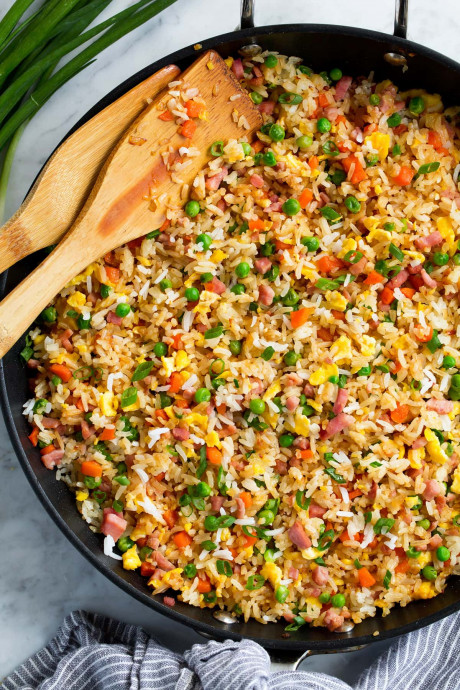 Fried Rice! A classic, easy to make recipe. It's filled with tender rice, colorful vegetables, hearty eggs, flavorful ham and it's all fried with a delicious, robustly seasoned sauce.Fried rice has always been one of my favorite take-out dishes, how about you? Sure many people consider it a side but I usually just eat it as the entire meal. A generous sized bowl of it, with plenty of sriracha drizzled over the top.
This fried rice recipe is deliciously flavorful, super hearty and perfectly filling, and incredibly easy to make! And it's just as good as what you find at restaurants. Plus it's easy to switch up and use other vegetables or meats you like. I love that it uses ingredients I usually have stocked, and for the few you may not it's pretty easy to find a replacement. A versatile, forgiving, foolproof recipe people of all ages love! A recipe worthy of the dinner rotation.With a few simple swaps you can make a healthy fried rice: Opt for an oyster sauce that has no msg. Use low-sodium soy sauce. Omit the ham or replace with cooked lean chicken or more vegetables. Use olive oil instead of vegetable oil.
Ingredients:
4 cups cooked jasmine rice* or long grain white rice, day old chilled
1 Tbsp soy sauce, then more to taste
1 Tbsp oyster sauce, or more to taste
1 1/2 tsp sesame oil
1 tsp sriracha, or more to taste
3 large eggs, lightly beaten with a fork in a bowl
3 1/2 Tbsp light olive oil or vegetable oil
3/4 cup small diced carrots
2/3 cup finely chopped yellow onion
1 Tbsp minced garlic (3 cloves)
1 1/2 tsp peeled and minced fresh ginger
3/4 cup frozen peas, thawed under hot water and drained well
1 cup small diced ham,** (optional)
1/4 cup chopped green onions (optional)