5-Minute Avocado Chocolate Mousse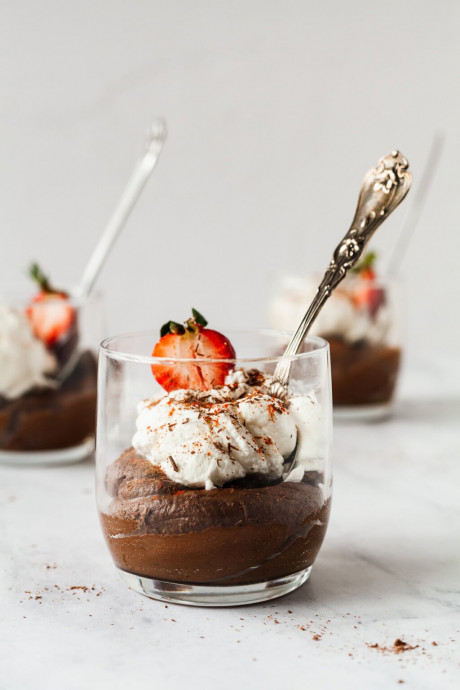 This Avocado Chocolate Mousse is a decadent yet healthy dessert that only takes 5 minutes to make in the blender. It's an easy recipe that's also gluten-free, paleo and vegetarian.
This recipe is great, because: The only kitchen tool you need is a blender. You most likely already have the ingredients (avocados, cocoa powder, chocolate chips, and some others)
It's literally ready to eat in 5 minutes as a chocolate pudding if you don't feel like waiting for it to thicken in the fridge. Seriously the easiest dessert ever! And since it's made with avocados, that means it's healthy, right? Right. That's my story, and I'm sticking to it. Try serving the avocado mousse with other fruit! Apples, bananas, cherries, or any type of berry would work. Don't like fruit? Try other toppings like shaved coconut or slivered almonds.
Ingredients:
2 large ripe avocados
1/2 cup milk chocolate chips
1/4 cup unsweetened cocoa powder
1/4 cup milk (any kind)
1 teaspoon pure vanilla extract
1 teaspoon honey
1/8 teaspoon coarse sea salt
1 teaspoon ground cinnamon, divided
1 teaspoon ancho chili powder, divided
optional toppings: whipped cream, sliced strawberries, raspberries, chocolate shavings