Super Easy Marshmallow Wagon Wheel Slice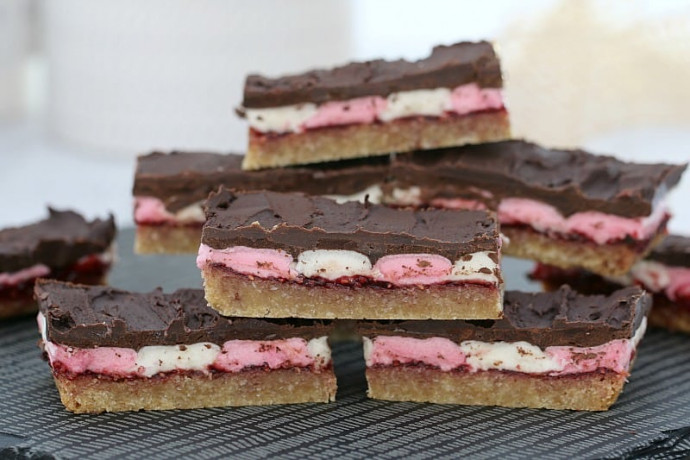 This easy Marshmallow Wagon Wheel Slice will have you coming back for more and more! A yummy base covered in raspberry jam, marshmallows, and of course, chocolate! Here's a great tip for cutting marshmallows in half! When it comes to cutting marshmallows in half, put away the knife and grab out your sharp scissors!
It's soooo much quicker and easier and you don't get anywhere near as sticky! Once the marshmallows have been cut, place them cut-side down onto the jam (nice and close to each other). Ooh and one little tip is to alternate the pink and white marshmallows so that you get a really gorgeous effect at the end. Totally not necessary - but it sure does look pretty! Pop the wagon wheel slice back into the oven for a couple of minutes to allow the marshmallows to soften. Take the slice out of the oven and press down with a spatula or spoon so that the surface is fairly even. Once the slice has cooled, make a really yummy chocolate topping and then spread it all over the slice. Leave the delicious little wagon wheel slice to set in the fridge for a few hours and then cut into slices. Delicious! Enjoy!
Ingredients:
1 cup plain flour
½ cup brown sugar
½ cup coconut
125 g melted butter
⅔ cup raspberry jam
250 g marshmallows regular pink and white
200 g dark chocolate
50 g butter