Sweet Potato Roll Sushi Bowl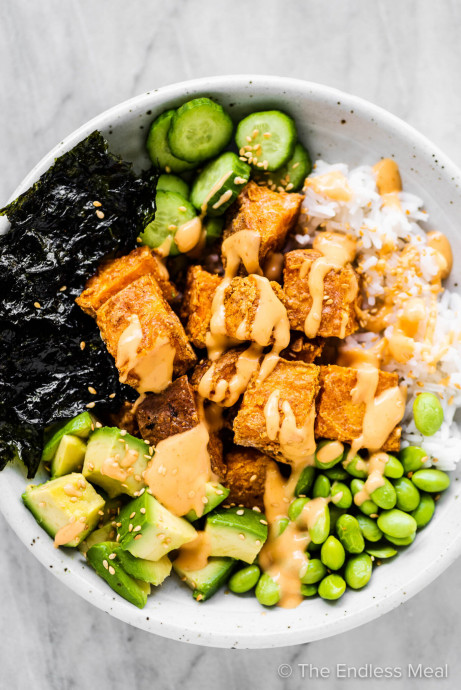 This sweet potato roll sushi bowl is just like your favorite sushi roll only it's served in a bowl. Believe me: it's way easier to make! Sushi rice, crispy baked sweet potato, avocado, nori, cucumbers, and edamame get piled into a bowl then drizzled with an easy to make spicy mayo. It's delicious! This sushi bowl is all of those things, without the fuss of having to roll your own sushi.
This is a bit like a sweet potato tempura roll. While the sweet potato isn't quite as crispy as tempura, it's almost exactly like a sweet potato tempura roll. If you have a deep fryer and are feeling adventurous, you could totally deep fry the sweet potato bites to make them even crispier. I love this sushi bowl exactly as is, but here are a few other things you can add to switch it up: Sliced radishes – or try daikon radish. Teriyaki sauce instead of the spicy mayo. Make a spicy mayo using wasabi instead of sriracha. Add some cooked salmon or crab meat. Use black rice. Add some pickled ginger to the bowl.It's delicious!
Ingredients:
CRISPY SWEET POTATOES
1 teaspoon oil (or preferably spray oil)
1 medium sweet potato, cut into bite-sized pieces
1 large egg (see notes for vegan)
¼ cup cornstarch
1 teaspoon EACH: sweet or smoked paprika, garlic powder, and onion powder
THE BOWLS
1 cup sushi rice or jasmine rice
2 mini cucumbers, cut into rounds
1 cup frozen edamame, boiled for 4 minutes
8 sheets of nori (we like spicy)
1 avocado, diced
Sesame seeds, to garnish
SPICY MAYO
4 tablespoons mayonnaise (can be vegan or light)
1 tablespoon sriracha
1 tablespoon fresh lime juice
1 teaspoon toasted sesame oil