Black Bean Tostadas With Fajita Veggies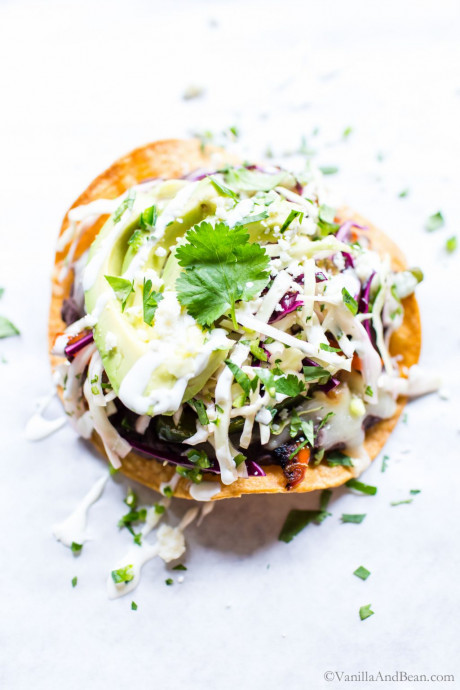 A versatile and meal prep ready recipe full of flavor and texture! Black Bean Tostadas are easy to pull together making this vegetarian tostada recipe perfect for meal prep and busy weeknights. This recipe is vegetarian, easily vegan and gluten-free. Almost all the components can be made ahead, but even better, these black bean tostadas satisfy omnivores, vegetarians, vegans and those eating gluten-free alike! I love it when a recipe can do that.
The sky is the limit with what to pile on top of these crispy tostadas. That's what makes them so versatile. I love this tostada recipe where fajita veggies and Mexican cabbage slaw complement the creamy refried black beans.
There's no wrong way to eat a tostada! Here's what I do: Pick up the tostada, holding it flat and supporting it with both hands. Everything should stay on it, although a few things may fall off, so have a plate underneath to catch all the goodness. Take a bite and enjoy the crunch! Bits will fall to the plate. Use a fork to scoop up and enjoy the good things that went overboard. If the tostada softens from the refried beans, simply enjoy the remaining tostada with a fork, cutting the tostada with the side of the fork as you work your way through it. Or just eat the whole thing using a fork by chipping away at the tostada with your fork for each bite!
Ingredients:
For the Fajita Veggies:
2 Tbs Vegetable Oil I like olive oil
2 (430g) Bell Peppers large, one red, one green, sliced in long thin strips
1 (150g) Purple Onion large, sliced in 1/2 moons
Fine Sea Salt
Make the Chili Lime Slaw:
3 C (150g) Shredded Mix of Red and Green Cabbage loosely packed
1 Tbs Seeded Jalapeño minced (or to taste. Take this up if you like spicy!)
1/2 C (20g) Cilantro rough chopped
Juice of 1-2 Limes to taste and depending on how juicy the lime is.
1/2 tsp Fine Sea Salt
For the Black Bean Tostadas
6-8 (6-7 inch / 15-18 cm) Tostada Shells gluten free if needed
2 1/3 C (580g) Refried Black Beans this is from one batch of my homemade recipe, if using canned, you'll need about 1 1/4 cans.
2 C (8oz / 226g) Shredded Monterey or Pepper Jack Cheese shredded*
Avocado Slices or Guacamole
Sour Cream*
Cojita crumbled, just a little on top, optional
Fist - Full of Cilantro chopped
Mexican Chipotle Salsa
Fresh Limes