Spinach and Ricotta Cannelloni/Manicotti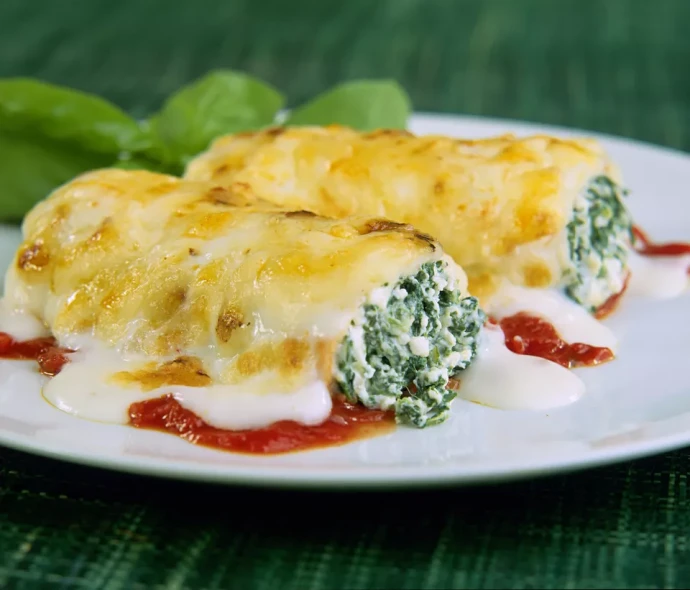 This is a classic filled-and-baked pasta dish that is good at any time of year, and which makes great leftovers as well. You can even freeze any leftovers, which will keep for about three months if packaged well in a freezer-safe bag or container. To reheat frozen leftovers: let defrost in the refrigerator overnight, then heat in an oven as described below.
As with all Italian dishes, it's important to use high-quality ingredients for the best results. If at all possible, use larger, darker leaves of mature spinach rather than baby spinach or young spinach. It's much more flavorful and holds its texture better when cooked, rather than disintegrating into a somewhat slimy mess. Very high-quality ricotta is also essential. If you only have access to watery, chalky supermarket brands, try making your own ricotta! It's easier than you think. Either sheets of fresh pasta or dried cannelloni tube pasta (cooked according to the package directions―be sure not to overcook) can be used; both give great results. The ratio of spinach to ricotta is much higher in this more authentically Italian version. Many U.S. adaptations contain mostly ricotta just barely flecked with spinach, while it should really be larger chunks of hearty spinach with some ricotta and egg holding it all together.
Ingredients:
1 pound mature spinach leaves
7 ounces fresh cow's milk ricotta
1 large egg (lightly beaten)
8 tablespoons finely grated Parmigiano Reggiano (a Microplane grater works well for this, plus 4 tablespoons for sprinkling on top)
Fine sea salt
Pinch freshly grated nutmeg
8 rectangles of fresh pasta (10 x 12 cm) or 8 tubes of dried cannelloni (cooked according to package directions)
2 cups besciamella
1 tablespoon unsalted butter