Buttermilk Chicken Breast with Fennel Salad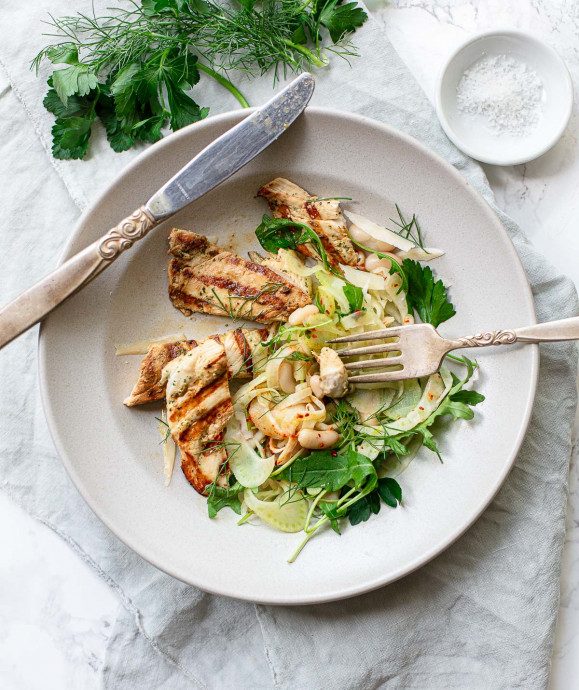 Tender grilled chicken breasts marinated with buttermilk and fresh basil. Serve with a lemony shaved fennel, arugula and cannellini bean salad for fresh, healthy plate. Gluten-free and low-carb friendly recipe.
Pounding chicken tenderizes the protein structure of the meat. Plus it evens out the thickness of the chicken breasts so that they'll cook more evenly. I use the smooth side of the pounder to make the chicken flat and even.
After pounding, the breasts marinate in a tasty blend of fresh basil, fennel seeds, lemon and tangy buttermilk, adding lots of flavor and tenderizing a step further.
To make this a lighter main dish, I made an crunchy arugula salad by mixing in some shaved fresh fennel, cannellini beans, and more lemon (because you can never have enough lemon). It's not too hard to butterfly chicken breasts, but if you'd rather skip that step go ahead and ask your meat counter to do it. You sometimes find ready to cook chicken cutlets if your market sells them. Leave the meat-pounding to the butcher to make this less fussy to make — but I have to say smacking chicken around is a great way to relieve some stress!
Ingredients:
4 boneless skinless chicken breasts
¼ cup (60 ml) buttermilk
¼ cup (60 ml) fresh lemon juice, divided
¼ cup (60 ml) olive oil, divided
1 teaspoon whole fennel seeds
1 small garlic clove, finely chopped
1 lightly packed cup fresh basil leaves
Kosher salt
1 teaspoon freshly grated lemon zest
1/2 teaspoon crushed red pepper
Fennel Salad
1 15-ounce can cannellini beans, drained
1 fennel bulb, preferably with fronds attached
¼ cup Italian parsley leaves
½ teaspoon freshly ground black pepper
2 cups (40 g) baby arugula
1 chunk Parmigiano-Reggiano or Parmesan cheese