Szechuan Chicken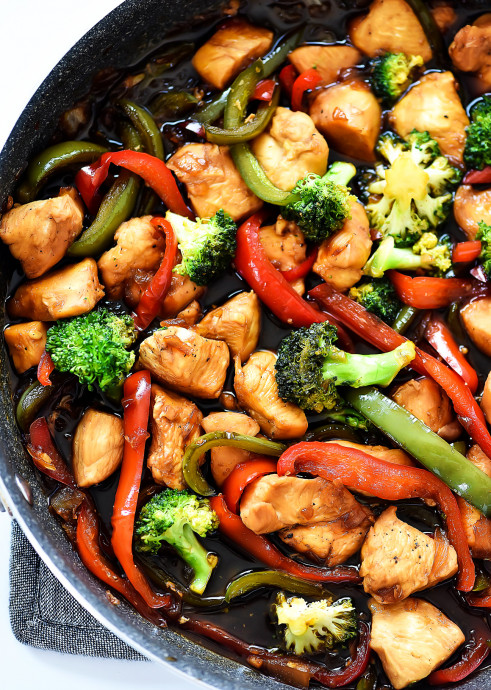 Szechuan Chicken is an easy and healthy meal your family will love. The teriyaki gourmet sauce gives it so much flavor, and the linguine pasta makes it that comfort food we all love! This Szechuan Chicken recipe is filled with veggies, linguine noodles and chicken all covered in a delicious teriyaki gourmet sauce. It is so easy to make and ready in no-time! It makes for a terrific dinner when you're in need of something simple yet bursting with flavor!
Szechuan chicken is typically made with red chili or cayenne peppers to give it a little heat, but I personally am not the biggest fan when it comes to all things spicy. I created this version for my own personal taste preference, and you can too! If you prefer that spicy flavor then definitely add in those red chili flakes or cayenne! One of the many amazing things about this dish is how versatile and completely customizable it is. You want to make it greener and a little bit healthier? Go ahead and add more veggies! Want more of a powerful flavor? Add more garlic! You can even swap out the linguine noodles with your favorite pasta.
If you're constantly craving Chinese food and sick of paying for expensive takeout, then this recipe is for you! You can make this delicious dish from the comfort of your own home and for way less. Amazing!
Ingredients:
1/2 pound linguine noodles
1 Tablespoon butter
1 pound boneless, skinless chicken breasts, cut in 1-inch pieces (season with a pinch of salt and pepper)
1 Tablespoon olive oil
1 small yellow onion, chopped
1 small green bell pepper, diced (seeds and ribs removed)
1 small red bell pepper, diced (seeds and ribs removed)
1 cup Yoshida's Original Gourmet Sauce
2 teaspoons minced garlic
1/2 teaspoon paprika
1 cup cooked or steamed broccoli florets