BBQ Chicken Pizza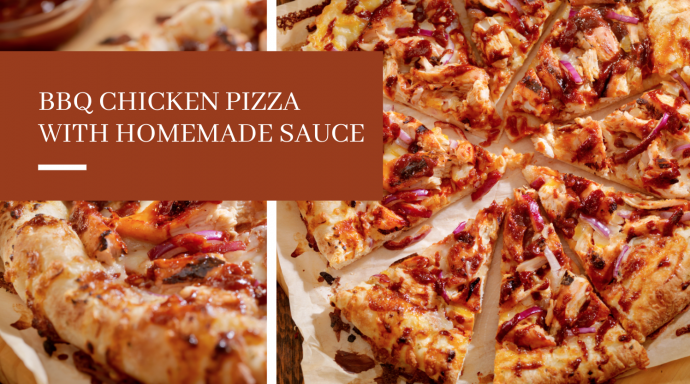 This homemade BBQ Chicken Pizza will give your favorite restaurant version a run for its money. Slightly spicy in taste, it's smothered in sweet and smokey homemade BBQ sauce, juicy seasoned chicken, tangy red onions, buttery mozzarella and the secret ingredient – Gouda cheese. I always make pizza dough at home as well, and here you will find a simple recipe.
Perfect for a family lunch, this is a pizza dish I know you will love.
Let's begin with the BBQ sauce, which is the key to success here. This homemade recipe comes together very quickly with just a handful of ingredients.
BBQ Sauce
You will need:
2 cups ketchup
1/2 cup molasses
1/3 cup brown sugar, packed
1/3 cup apple cider vinegar
1/4 cup seedless blackberry preserves
1 teaspoon mesquite liquid smoke (I have Stubbs Hickory at home, but you may use any)
1 tsp smoked paprika, chili powder, garlic powder
1/2 tsp chipotle chile powder, onion powder, ground mustard, pepper, salt
1/4 teaspoon dried thyme
To make the sauce, simply add all the ingredients to a medium saucepan and stir to combine. Bring to a simmer then reduce to low, gently simmer for 15 minutes, stirring occasionally.
Allow the BBQ sauce to cool to room temperature then transfer it to a mason jar or an air-tight container. Store for up to two weeks in the refrigerator.
While the sauce is cooking, let's move on to cooking pizza.
Of course, you can always purchase pizza dough in a can, which is still tasty, but don't expect restaurant-delicious results. Homemade dough is better, and it is incredibly simple!
Pizza Dough
Ingredients
For pizza dough
1 1/2 cups warm water (105-110 degrees)
1 tablespoon active dry yeast
1 tablespoon sugar
1 teaspoon salt
1 tablespoon olive oil
3 1/2 cups unbleached all-purpose flour (plus more as needed)
Olive oil
Salt
Dried garlic (optional)
For the pizza
1 1/2 cups (12 oz.) uncooked chicken breast chopped into bite size pieces
1 tsp smoked paprika, chili powder
1/2 tsp onion, powder, garlic powder, salt
1/4 teaspoon chipotle chili powder
1/3 cup + 3 tablespoons BBQ sauce, divided
1 cup freshly shredded mozzarella cheese (low moisture)
1 cup shredded smoked Gouda cheese
1/4 small red onion thinly sliced
Fresh cilantro for garnish
Directions
Step 1 – Pizza Dough
In a large mixing bowl, stir in water, sugar and yeast. Let sit 5-10 minutes or until the yeast is foamy and dissolved. Add olive oil, salt, and 1 1/2 cups flour and mix until combined with a wooden spoon (or with your hook attachment if using a mixer). Gradually mix in 2 more cups of flour until dough starts to pull away from the sides of the bowl. If your dough is too wet, add 1 more tablespoon of flour at a time (up to 1/4 cup) until dough barely sticks to your fingers. Once dough has pulled away from the bowl, knead in mixer on medium-low speed or by hand for 5 minutes.
Shape the dough into a ball and place back into your large mixing bowl that has been coated lightly with olive oil or nonstick cooking spray. Turn dough over to coat all sides. Cover tightly with plastic wrap and allow to rise until doubled in size, 1-2 hours.
After dough has doubled, remove from bowl and knead a couple times. Divide dough into two equal balls and cover with plastic wrap followed by a towel for 15 minutes. You can freeze one of the balls at this point if desired.
After dough has been resting 15 minutes, roll each dough ball out onto a lightly floured surface or parchment paper into a 12-inch round circle. Transfer pizza dough to your baking sheet then pinch edges to create a rimmed crust. Lightly brush the top of the crust with olive oil and sprinkle with garlic salt. Using a fork, prick several holes in the crust.
In the meanwhile, preheat the oven to 475 F.
Step 2 – Chicken
Whisk together the chicken seasonings in a small bowl. While the chicken is still on the cutting board, pat it dry and sprinkle with seasonings, toss to evenly coat; set aside.
Heat 2 tablespoons olive oil in a heavy bottom skillet over medium-high heat until hot and rippling. Add chicken and cook through. Remove from heat and stir in 3 tablespoons barbecue sauce.
Step 3 – Assemble
Evenly spread 1/3 cup BBQ sauce (which we have already prepared) over the top of the uncooked dough. Top evenly with cooked chicken followed by cheeses and red onions.
Step 4 – Bake
Bake at 475 F for 12-15 minutes. Remove from the oven and garnish with cilantro, if desired. Slice with a pizza cutter and serve immediately.
Bon appetit!