Peanut Butter and Jelly Chia Pudding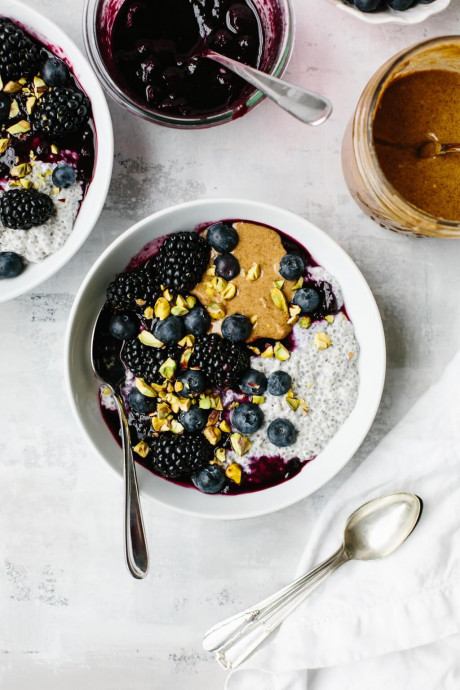 Peanut butter and jelly chia pudding that tastes just like a PB&J sandwich! But I've made a few alterations. Instead of peanut butter I'm using almond butter and instead of jelly I'm using homemade blueberry puree. I'm also topping it with chopped pistachios – and I think you're gonna love it!
So today I thought I'd bring you a new spin on chia pudding, with this peanut butter and jelly version. It really does taste like a PB&J sandwich, but we're serving it up for breakfast, adding homemade almond butter and blueberry puree, topping it with tons of fresh berries and sprucing it up with chopped pistachios! Chia pudding is incredibly easy to make. All you have to do is mix 1/2 cup of chia seeds with 2 cups of milk and you can use any dairy or dairy-free milk.After you've made your chia pudding the fun begins – because now you can get creative with toppings or layers. Today, I'm adding my homemade almond butter (that only takes one minute to make in my Vitamix) and an easy blueberry puree. Then, I'm topping it with more fresh berries and a sprinkle of chopped pistachios for a lovely burst of color and crunch.
Ingredients:
1/2 cup chia seeds
2 cups cashew milk, almond milk or coconut milk
4 tbsp almond butter or peanut butter
1 pint blueberries, plus more for garnish
1 tbsp honey or maple syrup
blackberries, for garnish
3 tbsp chopped pistachios, for garnish