The Best Chocolate Overnight Oats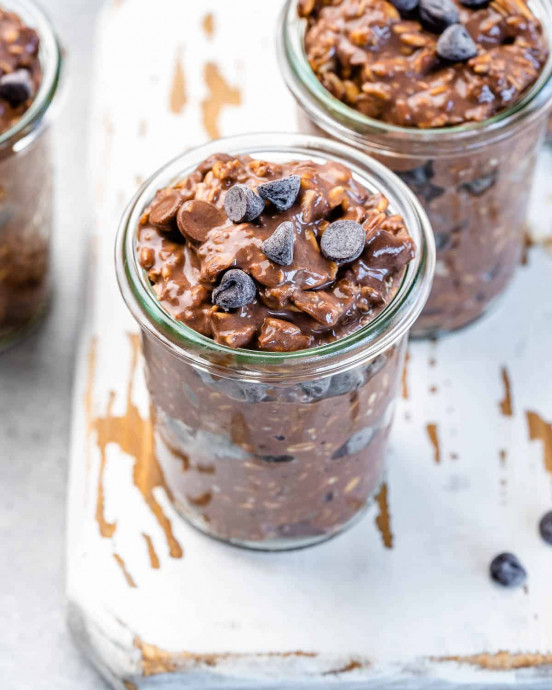 These chocolate overnight oats are healthy, full of protein, and simply delicious! Rich dark chocolate chips are accented with a creamy oat base mixed with milk, yogurt, maple syrup, and cacao powder. This recipe comes together within minutes and is the perfect option for breakfast or a post-workout snack!
These healthy chocolate overnight oats are rich in chocolate flavors that are crunchy with dark chocolate chips. Creamy with a little bit of sweetness, this overnight oats recipe is perfect for anyone looking for an easy and quick breakfast option. Naturally vegetarian with a vegan option, these plant-based oats are simple, yet delicious and filling. Perfect for on to the breakfast.
Why you'll love this overnight oats recipe: So easy to make: With just a few simple steps, you will have a healthy breakfast ready in no time! Filled with protein: Thanks to the oats, yogurt, and chia seeds, this easy healthy breakfast recipe is filled with protein which means it is the perfect option for a light, but hearty breakfast. Perfect for meal prep: Did you know overnight oats are great for meal-prepping? Make a batch of these oats to last you all throughout the week: a great option for a grab-and-go breakfast. Simple ingredients: Made with a handful of basic ingredients, this oatmeal breakfast recipe is incredibly minimal. You probably already have these ingredients in the kitchen!
Ingredients:
2 cup old-fashioned rolled oats
1 tbsp chia seeds
3 tbsp raw cacao powder or unsweetened cocoa powder
2 cup non-dairy milk
2/3 cup yogurt coconut or greek
2 tsp pure vanilla extract
1/3 cup pure maple syrup
1/4 cup dark mini chocolate chips or chopped dark sugar-free chocolate