Orange Pomegranate Salad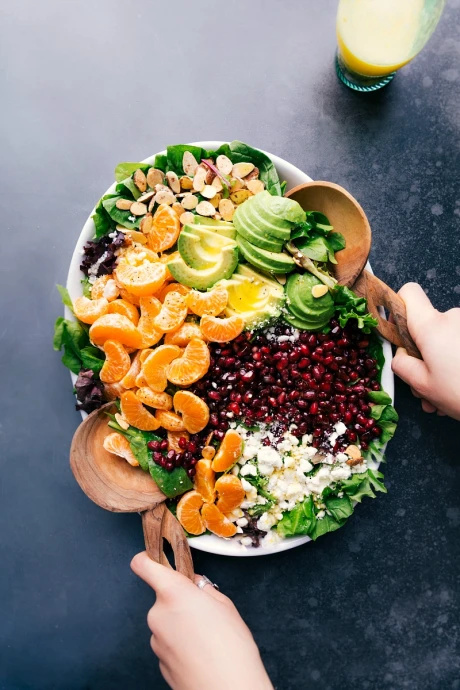 This show-stopping Orange Pomegranate Salad is topped with clementines, pomegranate arils, candied almonds, sliced avocado, and feta cheese. It's dressed in an irresistible citrus vinaigrette that takes minutes to whip together. This salad is light, refreshing, and the perfect complement to the heartier and heavier holiday side dishes. This Orange Pomegranate Salad is a light side dish filled with good-for-you ingredients and pops of gorgeous, ripe fruit.
Once dressed, this Orange Pomegranate Salad doesn't store very well. The dressing makes the lettuce wilt and the avocado begins to brown and change texture. I'd recommend only dressing what you will enjoy the same day. See tips in the section above for storing the dressing and salad components separately. Try to only cut avocados that will be consumed immediately after making.
Ingredients:
8 cups (5oz.; 145g) mixed greens (spinach and lettuces)
2 cups (290g) clementine or mandarin oranges (~4-6 clementines)
3/4 cup (119g) pomegranate arils
1 large avocado chopped or thinly sliced (or use 2 small avocados)
Optional: lemon (to keep the avocado from browning too quickly)
1/4 cup (30g) crumbled feta cheese
1/2 cup (61g) sliced honey-roasted almonds
Dressing
4 tablespoons (64g) juice from a large orange
1 teaspoon finely grated orange zest
2 tablespoons white wine vinegar
1 tablespoon honey
1/4 cup (50g) olive oil
1/2 teaspoon Dijon mustard
scant 1/4 teaspoon fine sea salt
Pinch of ground pepper
Optional: 1 teaspoon poppy seeds