Oven Baked Smoked Sausage Corn Dog Bites + Honey BBQ Sauce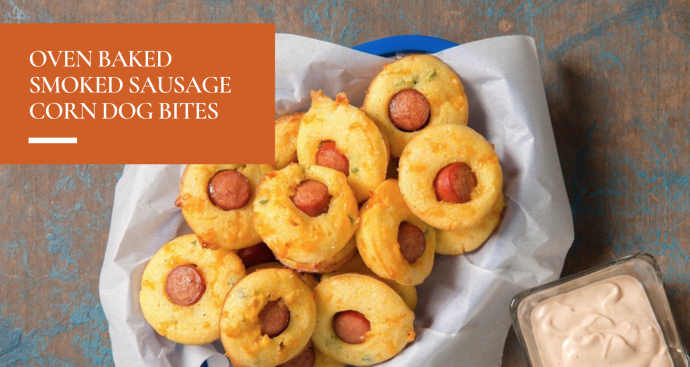 These smoked sausages take corn dogs to another level of greatness. If you like corn dogs, you'll like this tasty version for sure. These homemade corn dogs are fantastic and really don't take much work to make and you will save a ton of money by skipping the boxed muffin mix. You can make this recipe for dinner, but it also works for an afternoon snack. I will say that the one thing my family said about these corn dog bites was that there was not enough sausage in them. I layered a few inside each one as well as putting them on top.
Ingredients
1 pound smoked sausage, cut into 8 even pieces
1 cup all-purpose flour
1 cup yellow cornmeal
1 cup shredded Cheddar cheese
¼ cup sugar
1 cup milk
1 tsp baking soda
½ tsp salt
6 tbsp butter, melted
2 large eggs
1 tbsp vegetable oil or baking spray
Herbs to taste (I take fresh parsley)
Honey-Barbecue Dipping Sauce (recipe follows)
Directions
Step 1
Preheat oven to 375°F.
Step 2
Brush each cup of a muffin pan with about 1 tablespoon of vegetable oil (or spray each cup with baking spray), and set aside.
Step 3
Stir together flour, cornmeal, cheese, sugar and herbs in a large bowl.
Step 4
In a separate medium bowl, whisk together milk, melted butter and eggs; add to flour mixture, stirring just until blended.
Step 5
Spoon about 1 Tbsp mixture into each muffin cup.
Push 2-3 sausage pieces, cut side up, into the center of each muffin cup.
Bake 15 to 20 minutes or until the edges are golden brown.
Let cool for about 5 minutes and serve.
Serve with Honey-Barbecue Dipping Sauce.
Honey BBQ Sauce recipe
Ingredients
1 cup ketchup
½ cup honey
¼ cup white vinegar
¼ cup molasses
1 teaspoon liquid smoke flavoring
½ teaspoon salt
½ teaspoon ground black pepper
¼ teaspoon paprika
¼ teaspoon onion powder
¼ teaspoon garlic powder
Stir ketchup, honey, vinegar, and molasses together in a saucepan over medium heat until smooth; add liquid smoke, salt, black pepper, paprika, onion powder, and garlic powder. Stir the seasonings into the ketchup mixture, reduce heat to low, and simmer until thickened, about 20 minutes.
Bon appetit!