Famous Utah Fry Sauce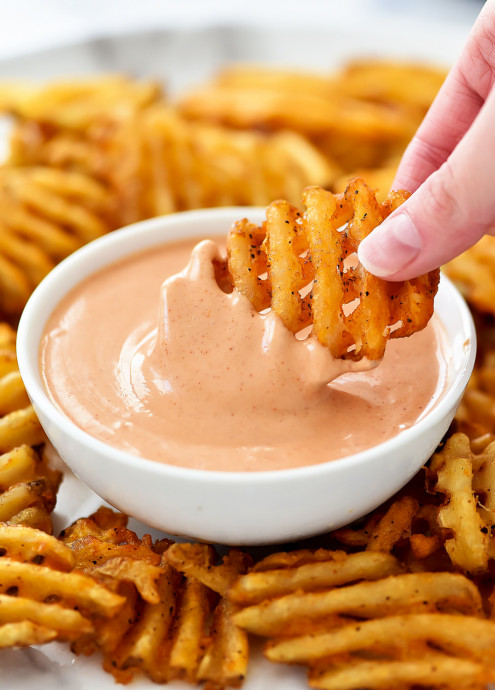 This famous Utah Fry Sauce is a sweet and tangy dipping sauce that's perfect for French fries, onion rings and more. Once you try it, you won't be able to eat French fries without it again! If you're a dipper, then you're going to absolutely love this fry sauce! It comes together in minutes, is full of flavor, and totally addicting. If you haven't tried this sauce yet, then do yourself a favor and make some asap!
For those of you wondering, fry sauce is a dipping sauce that is well known for being served just about everywhere here in Utah. Most of you have probably made it and just not realized you were making fry sauce!
The most basic form is simply made by mixing together ketchup and mayonnaise. To take things to the next level, we like to add in a variation of spices and a couple other ingredients to make it extra flavorful.
This recipe is also versatile, meaning you can switch up the ingredient amounts to fit your flavor preferences. Just add your desired amounts to a bowl and simply whisk all of them together. It's best to now cover it, and let it sit in the fridge for a few hours to really let the flavors blend. But I don't blame you if you don't have the patience and want to dig in immediately!
Ingredients:
1 cup mayonnaise
2/3 cup ketchup
1 ½ Tablespoons dill pickle juice
1 ¼ teaspoons Worcestershire sauce
1 teaspoon paprika
1/4 teaspoon cayenne pepper