Carnitas Omelette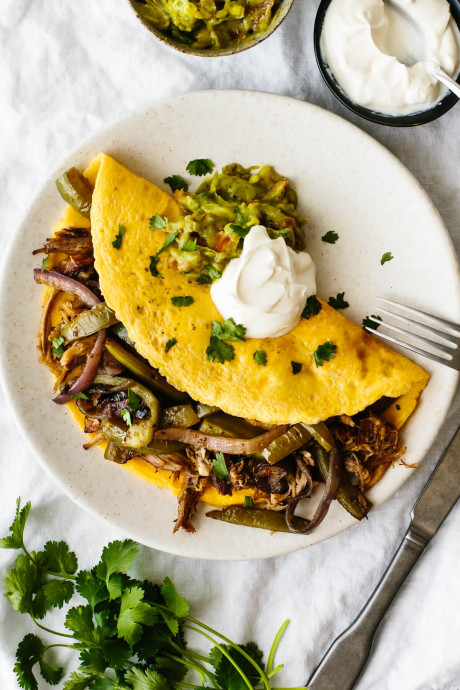 This carnitas omelette is a delicious way to bring the best Mexican flavors to the breakfast table. It's filled with tender pork carnitas, slightly caramelized fajita veggies, and topped with (you guessed it) guacamole, sour cream, and a sprinkle of cilantro. Whenever I make a batch of my insanely delicious carnitas I try to think of new and creative recipes to use up the leftovers. And since breakfast is one of my favorite meals, I was inspired to make a hearty, savory omelette out of it! Because let's be honest, omelettes (aside from egg scrambles) are a great way to use up leftover ingredients.
It was a quick and easy throw-together recipe with some leftover fajita veggies. But boy did this turn out so good. Heck, I'd even say this is Sunday brunch worthy to impress your guests. And when you dip each bite into a pile of guacamole and sour cream, it really takes it over the top.
You can serve as is with a dollop of guacamole and sour cream, but why not go the extra length for an even better omelette. Here's a few ideas for seriously delicious flavors. Add dips: Make a batch of pico de gallo or this restaurant style salsa for a refreshing bite. Plus, you can save the rest to snack on with tortilla chips. Can't beat a two-for-one! Drizzle a sauce: When it comes to Tex-Mex flavors, a drizzle of lime crema or chipotle sauce always kicks my meals up a notch. Sprinkle herbs: A sprinkle of cilantro for the best Mexican flavor!
Ingredients:
1 tablespoon butter, ghee, or oil
3 large eggs
1/2 cup carnitas
1/3 cup fajita veggies
Optional toppings: guacamole, sour cream, salsa, and cheese.