Cashew Chicken Stir Fry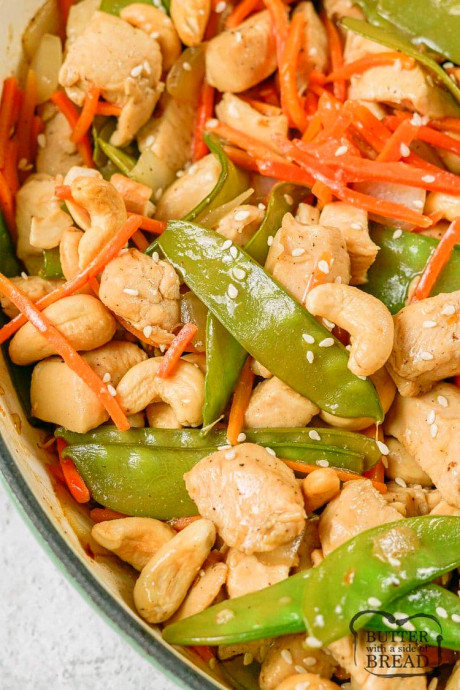 Cashew Chicken Stir Fry is a simple 30 minute meal made with tender chicken & veggies in a flavorful Asian sauce! Stay home, save your money and make up this easy homemade Cashew Chicken Recipe! This Cashew Chicken Stir Fry Recipe is one of our favorites. It comes together super quick and dinner is on the table in under 30 minutes, which is a huge win!!
I love our Chinese take out, but sometimes it is just not in the budget, so we make our own and you know what? It is so much better when it is made at home, and you have so much more control over what goes into the recipe.
I like to serve this easy cashew chicken stir fry over white rice. I simple place the rice on a serving platter, then place the cashew chicken on top, drizzle with any extra sauce and sprinkle with sesame seeds. This recipe could also be served over brown rice, on its own or even over rice noodles. If you happen to have some leftover cashew chicken, place in an air tight container and store in the refrigerator for up to 3 days after you make it. To reheat, take out what you are going to heat and microwave for 1-1 1/2 minutes until heated through.
Ingredients:
1 1/2 pounds chicken breasts, cut into cubes
2 cups carrots, matchstick
1 cup snow peas
1 small yellow onion, diced
3 garlic cloves, minced
1 tsp salt
1/2 tsp black pepper
2 tbsp olive oil
1 cup cashews, salted
Sauce Ingredients
1 cup cold water
1 tbsp cornstarch
3 tbsp rice vinegar
1 1/2 tsp chicken bouillon
1/2 tsp ginger, grated
1/2 tsp red pepper flakes
1 tbsp canola oil
3 tbsp honey
1/4 tsp garlic salt
1/2 tsp sesame oil
1 tbsp hoisin sauce