Cheesy Tomato Chorizo Orzo Skillet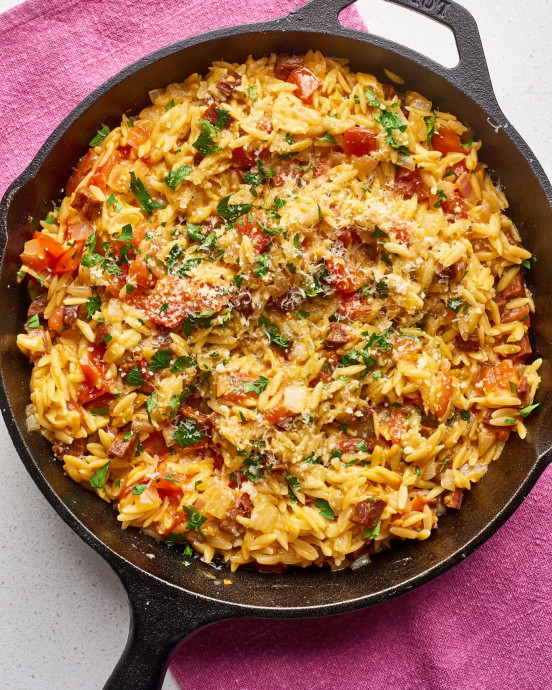 Quick skillet dinners are a smart choice all year long, but I find they're especially welcome on these warm summer days when the goal is to keep the kitchen cool. This one is full of chewy al dente orzo, sweet and juicy tomatoes, spicy Spanish chorizo, and, of course, nutty Parmesan or Pecorino cheese.
The orzo cooks directly in the skillet and releases some of its starch as it simmers, making this dish creamy and risotto-like — without the time commitment. It's simple and comforting, yet not at all heavy.This recipe has a short ingredient list, but doesn't skimp on flavor. That's all thanks to Spanish chorizo, a dried and cured pork sausage enhanced with garlic, herbs, and smoked paprika, which gives the meat its signature smoky flavor. You can buy either hot or mild, depending on your preference for spice, so pick up whichever one your family would enjoy.
Cooking the chorizo in the skillet before adding the other ingredients allows the fat to render from the meat, so when the orzo and tomatoes hit the pan, they're immediately infused with smoky, aromatic flavor. It's the easiest way to crank up the volume on a simple skillet dinner without having to reach for an overwhelming number of spice jars.
Ingredients:
1 tablespoon olive oil
4 ounces dried Spanish chorizo, casing and ends removed, chopped (about 3/4 cup)
1 small yellow onion, diced
Kosher salt
Freshly ground black pepper
2 cloves garlic, minced
1 1/2 cups dried orzo pasta
2 medium tomatoes, chopped
2 1/2 cups low-sodium chicken broth
2 ounces grated Parmesan or Pecorino cheese (about 1/2 cup), plus more for serving
1/4 cup chopped fresh flat-leaf parsley leaves