Broccoli Rice Casserole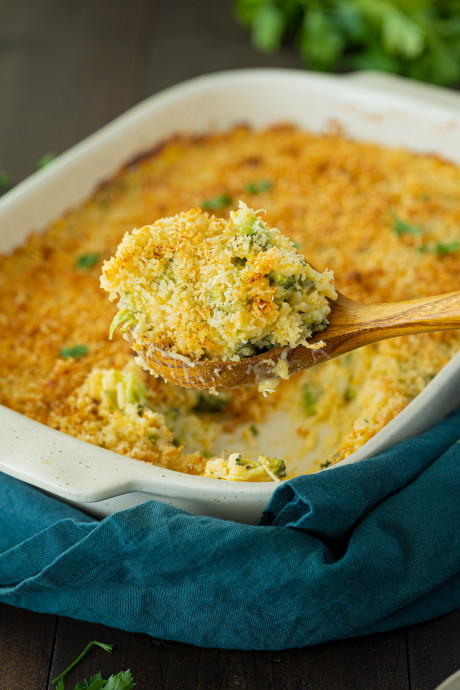 This broccoli rice casserole is the classic casserole we all grew up with but made from scratch (no mushroom soup cans in sight, crazy, right?) Nothing is more comforting, homey, and filling than a good casserole dish. However, you can easily get tired of the same old recipes – what if you want something comforting and filling that doesn't contain endless meat or hard to find ingredients?
This broccoli rice casserole is just that; simple, easy to make, and extremely budget-friendly and is a great side dish for the holidays – and any day really.
For a healthier casserole twist, this uses broccoli and rice instead of meat, and doesn't use the canned soups. This dish is so filling and packed with nutrients that you might find yourself unable to finish it in one meal, no matter how big your family is. The best thing to do is to simply have it again tomorrow; however, watch out how you reheat it. A casserole like this is likely to dry out if simply baked in the oven on its own.
For the best quality when reheating it, tent the dish with foil to ensure it doesn't get too dry. Make sure you also reheat it slowly at a lower temperature, around 300 °F to help ensure it doesn't lose too much of its natural moisture.
Ingredients:
1/4 cup butter
1 tbsp minced garlic
1/4 cup flour
2 1/2 cups milk
1 tsp chicken bouillon powder
2 cups shredded cheddar cheese do NOT use pre-shredded, it makes the sauce grainy!
1/4 tsp onion powder
black pepper and salt to taste
Casserole Ingredients
6 cups fresh broccoli florets blanched in the microwave for 3 minutes
3 cups cooked white rice
Cheesy Panko Topping
1 1/2 cups panko crumbs
1/4 cup salted butter melted
1/2 cup Parmesan cheese shredded
1/4 teaspoon paprika