BBQ Chicken Kabobs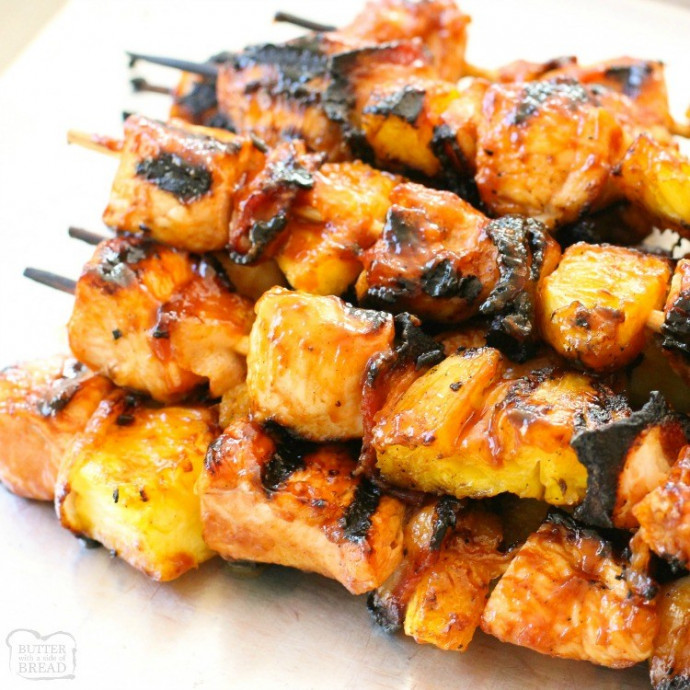 BBQ Chicken Kabobs recipe with tender chicken grilled with pineapple and bacon then slathered with your favorite BBQ sauce. These ultimate BBQ recipe for grilled chicken kabobs are perfect for your next cookout!
Serve these BBQ Chicken Kabobs with Orange Cream Fruit Salad, Alfredo Potatoes and Garden Vegetable Caprese Salad! I love serving our main dish with these Easy 30-Minute Dinner Rolls too!
BBQ Chicken Kabobs with Bacon and Pineapple are so insanely delicious, you'll be grilling these up often! These BBQ Chicken Kabobs are made in a way you've never tasted before and include all your favorite summer grilling flavors. Just 4 ingredients and everyone will be lining up for more! The kids are out of school in a matter of weeks, and we have two subsequent days this week where it will be at least 80 degrees. You know what that means, right?! Summer is almost here! It's a fun time of year and I always find myself craving those flavorful summer meals. I love everything about these BBQ Chicken Bacon Pineapple Kabobs- the tangy pineapple paired with the smoky bacon and tender chicken. The bacon gets crispy on the edges and tastes SO good. Slather it with your favorite BBQ sauce and dinner is served!
Ingredients:
2 large chicken breasts cut into 1 1/2" - 2" chunks, salted lightly
1 1/2 cups of your favorite BBQ sauce
1 lb bacon cut into 1"- 1 1/2" segments
fresh pineapple cut into 2" chunks