Homemade Russian Dressing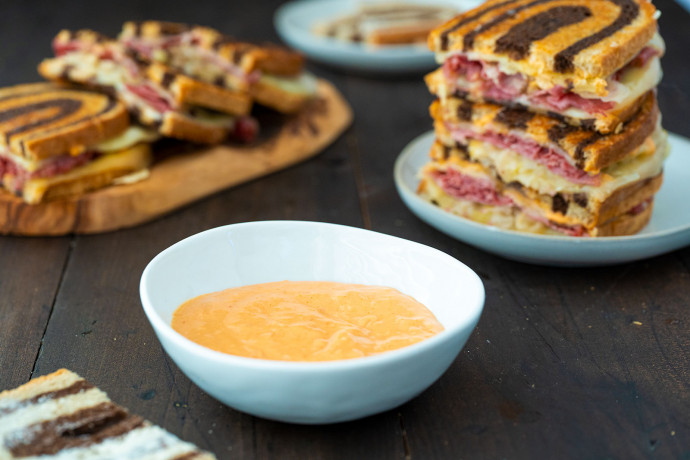 Russian Dressing is not that popular anymore, having been replaced by the more consumer-friendly Thousand Island dressing instead. However, the sweet-spicy flavors of Russian Dressing are still worth making yourself, as you probably won't be able to find it elsewhere. Making Russian Dressing is actually incredibly easy, despite how rare it is to find these days. It is essentially a blend of mayonnaise and ketchup, alongside a few sour and spicy extras like chili sauce, horseradish, and hot sauce.
The exact ingredients tend to change depending on where you buy your Russian Dressing and who makes it. Here is what I would say is the best, most balanced Russian Dressing you can make – spicy, sweet, and just a little bit tangy; this Russian Dressing goes well with everything.
The trick is that you are going to have to adjust a few key ingredients to your liking. Some people like a really horseradish loaded Russian dressing, other's like a sweeter one. I am giving you the ingredients that you need, and you can adjust to your liking! You can adjust all of them but I am pointing out the three key ones for taste adjusting. If you really want to keep it fresh for a few weeks at a time, transfer it into a sealable container with a really tight lid. The key with this sauce is to make sure no moisture from your fridge can get into your sauce and ruin it, so ensure it is always well protected against the elements.
Ingredients:
1/2 cup mayonnaise
1 tablespoon ketchup
2-3 teaspoons chili sauce to taste
1 teaspoon prepared horseradish
1 tablespoon fresh lemon juice
1 teaspoon Worcestershire sauce
1/4 tsp sweet paprika
3 teaspoons shredded onion
couple dashes of hot sauce to taste
sugar to taste