Beetroot Soup (Borshch)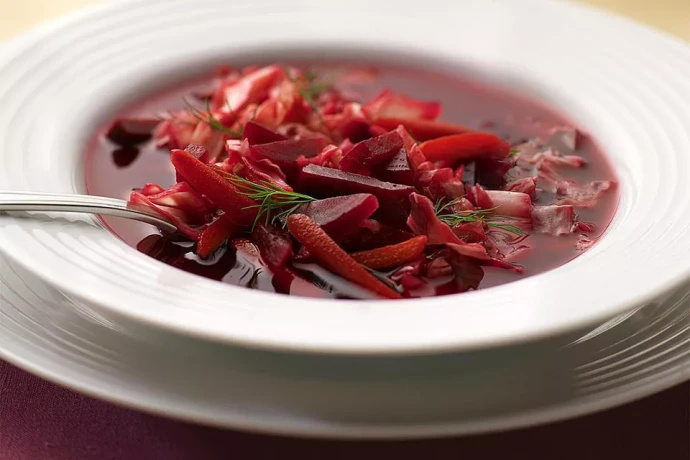 This recipe for Ukrainian beetroot soup, or borshch, is made with beef, cabbage, carrots, potatoes, onion, and beets. It also includes Ukrainian caraway dumplings, which are little pirozhki (similar to pierogi), that are cooked right in the broth. This soup is excellent with them, but still delicious without if you choose not to make the dumplings.
Contrary to popular belief, Ukrainians don't spell their beetroot soup borscht (that's a Yiddish spelling), nor are beets the predominant ingredient. In fact, this stew-like soup is orange from the carrots and tomato paste, not a purple-red color. The Polish version, called barszcz, has the ruby-red color most people associate with beet soup. Russians call their cold beet soup svekoljnik, which is very red in color. In Ukraine, beet soup is made in infinite varieties, but some resemble the Russian version and are also called borshch.
Ingredients
For the Beef Stock:
3 pounds beef shanks or 2 1/2 pounds beef chuck on the bone (well rinsed)
8 cups cold water
1 large onion (coarsely chopped)
1 large carrot (peeled and coarsely chopped)
1 celery rib (coarsely chopped)
1 stock sachet
For the Soup:
1 pound beets (trimmed and peeled)
3 large carrots (trimmed and peeled)
1/4 large cabbage (shredded)
2 large potatoes (peeled and thinly sliced)
2 large onions (diced)
2 tablespoons tomato paste
1 tablespoon sugar
Salt to taste
Black pepper to taste
1 cup all-purpose flour
2 teaspoons baking powder
1/2 teaspoon salt
1 teaspoon caraway seeds
1/2 cup milk
1 large egg (beaten)
Black pepper to taste
For Serving:
Sour cream
Fresh dill
Lemon wedges