Smoked Chicken Thighs With Whiskey Peach Glaze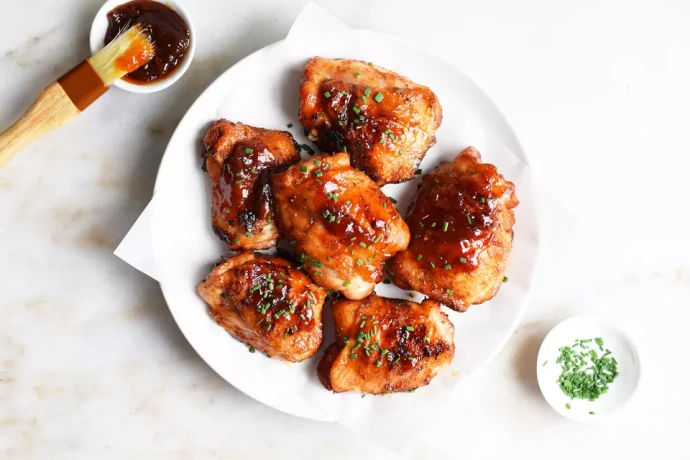 These smoked chicken thighs with a whiskey peach glaze are incredibly juicy and more exciting than the same old grilled chicken breasts. You can make this tasty main dish in your smoker, charcoal grill, pellet grill, or gas grill.
Chicken cooks faster than most smoked meats and doesn't need to be tenderized through the "low and slow" method. It's cooked at a lower temperature at first, then the heat is cranked up to achieve a crispy skin.
You don't need to brine the chicken thighs since they are already extremely juicy when cooked. If you are using breasts instead of thighs, you may want to brine the pieces first. Just place it in a bowl of salty water, cover, and allow to brine in the fridge for at least 30 minutes or up to 24 hours.
Ingredients:
1/2 cup brown sugar
1 tablespoon smoked paprika
1 teaspoon onion powder
1 teaspoon garlic powder
1 teaspoon crushed red pepper flakes
1 teaspoon salt
1/2 teaspoon black pepper
2 pounds bone-in skin-on chicken thighs
For the Peach Whiskey Glaze:
3/4 cup peach or apricot jam (or preserves)
1/2 cup ketchup
1/2 cup sliced fresh or frozen and thawed peaches (or apricots)
1/2 cup brown sugar
2 tablespoons molasses
2 tablespoons whiskey
2 tablespoons apple cider vinegar
1/2 teaspoon garlic powder
1 teaspoon hoisin sauce