Fluffy Japanese Pancakes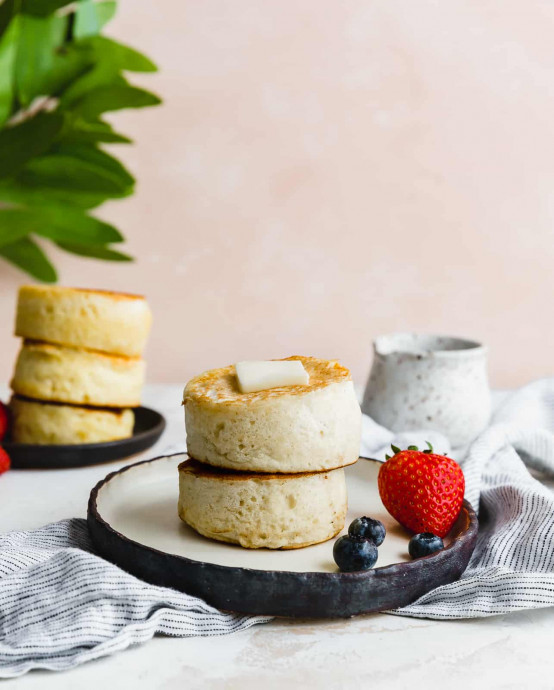 These fluffy Japanese pancakes are thick, soft, and billowy. Their soft texture on the inside and a golden brown color on the top and bottom makes for a beautiful and delicious pancake breakfast. These pancakes can be a bit tricky to make. (That comes with any recipe that has a lot of elements to it.) But, after seeing and hearing about these Japanese pancakes, I knew I wanted to get a recipe that would give detailed instructions on how to make these pancakes, especially when they taste as amazing as they do! I always believe that no matter your skill in the kitchen, no one should feel like a type of food is out of reach.
The good news is I have easy-to-follow, step-by-step instructions for making the perfect fluffy Japanese souffle pancakes. There are also some tips and tricks at the bottom in my FAQs and Recipe Tips sections if you have questions or want tips to make sure yours are as light and as fluffy as can be!
This is a fun twist on your typical pancake breakfast. The flavor will taste similar to traditional buttermilk pancakes — since there are a lot of the same ingredients — so expect a delicious, buttery, flavorful and light pancake. Although these pancakes are Japanese, you can eat them the same way you would with traditional pancakes. Top them with fresh fruit, syrup, whipped cream, powdered sugar, chocolate chips, and more!
Ingredients:
1 1/2 cups all purpose flour
3 tablespoons granulated sugar
2 teaspoons baking powder
1/4 teaspoon baking soda
3/4 teaspoon kosher salt
1 1/4 cups buttermilk - at room temperature
4 tablespoon butter - melted
1 teaspoon vanilla extract
2 egg yolks
4 egg whites
1/4 teaspoon cream of tartar
cooking spray