Chocolate Fondant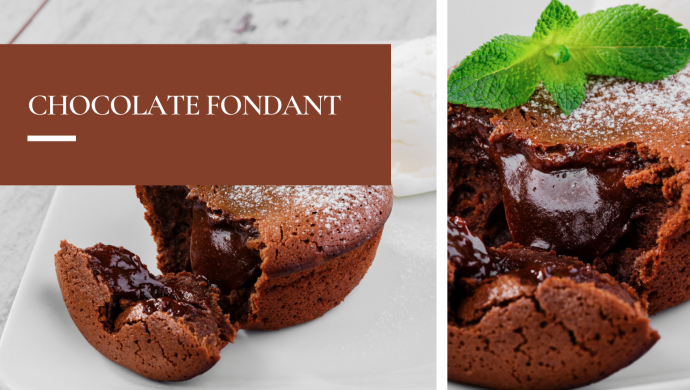 Who can resist a tasty, warm, chocolatey, melt-in-the-middle chocolate fondant for dessert? These impressive puds are a chocoholics dream and they make a gorgeous finish to a family dinner or any special occasion. Discover how to make this rich, soft centered classic fondant recipe. Serve with a little cream on the side.
Ingredients
melted butter, for greasing
1 tbsp cocoa powder, for dusting
9.5oz dark chocolate (at least 70% cocoa solids)
8oz unsalted butter
10oz caster sugar
0.5tsp vanilla extract
4 large free-range eggs, beaten
3 egg yolks
7oz plain flour, sifted
Directions
Step 1
Heat the oven to 350 F. Lightly butter your pudding molds. Spoon some cocoa into each and turn to coat the inside right up to the rim. Tap out the excess cocoa, you just want a thin dusting. Set aside.
Step 2
Gently melt the chocolate with butter in a bowl over a pan of simmering water. Don't let the bowl touch the water, or it will get too hot and could cause the chocolate to seize (go grainy).
Remove from the heat and stir in the sugar and vanilla extract. Leave to cool slightly.
Step 3
Put the egg yolks, whole eggs and sugar in a bowl and sit over another pan of simmering water. Whisk with electric beaters until the volume has increased and the mix is thick, pale and fluffy. It will leave a trail behind when you lift up the beaters.
Step 4
Stir the flour into the chocolate mixture until it disappears, then fold the chocolate into the egg mixture. Don't worry if you knock air out of it, you want to get the chocolate really well mixed in.
Step 5
Pour into the molds leaving a space of about 1 cm at the top for the puds to expand. Put them onto a baking sheet and cook for 10 minutes exactly. The puddings will have formed a crust on the top and start to come away from the side of the molds. Leave to stand for 30 seconds before turning out onto serving plates. Serve right away with vanilla ice cream and fresh berries.