Dulce de Leche Caramel Bars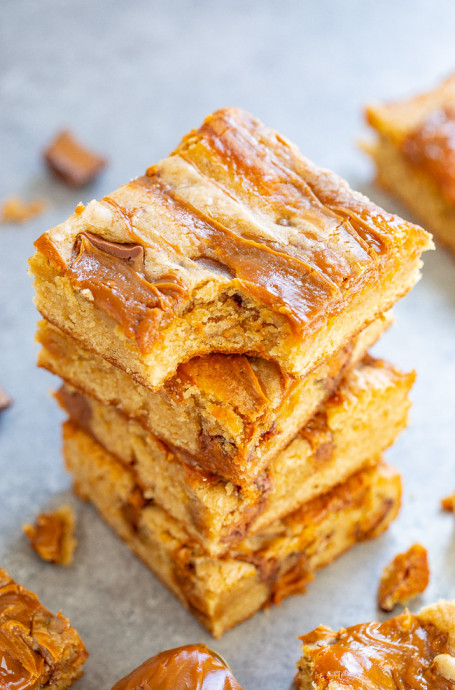 Dulce de leche caramel bars – soft, chewy bars loaded with dulce de leche and rolo caramel candies for the ultimate in caramel flavor! Easy to make and a guaranteed favorite! Perfect for your next fiesta! The bars are soft, chewy, and loaded with caramel flavor thanks to both dulce de leche and Rolo caramel candies. Quite simply dulce de leche is sweetened condensed milk that is heated at low temps over the course of a long period of time. This is in contrast to homemade caramel sauce which is heated to high temps over a short course of time.
In terms of taste, the two resemble each other but I think dulce de leche tastes a bit creamier and sweeter than caramel sauce, but it varies. Dulce de leche is definitely much thicker than caramel. It has the consistency of thick buttercream frosting whereas caramel is a much thinner and generally a more pourable liquid or sauce.
The recipe makes a 9×13-inch pan of bars but they are thick and rich so you can stretch the yield to an easy 18 servings if you don't cut them jumbo-sized. They're easy to make in advance of events or parties because the bars keep well at room temp for many days.
Ingredients:
1 cup unsalted butter (2 sticks), softened
2 large eggs
2 cups light brown sugar, packed
1 tablespoon vanilla extract
2 cups all-purpose flour
1 teaspoon baking powder
1/2 teaspoon salt, or to taste
30 Rolo candies, unwrapped and halved
half of one 13.4-ounce can dulce de leche