Caesar Croutons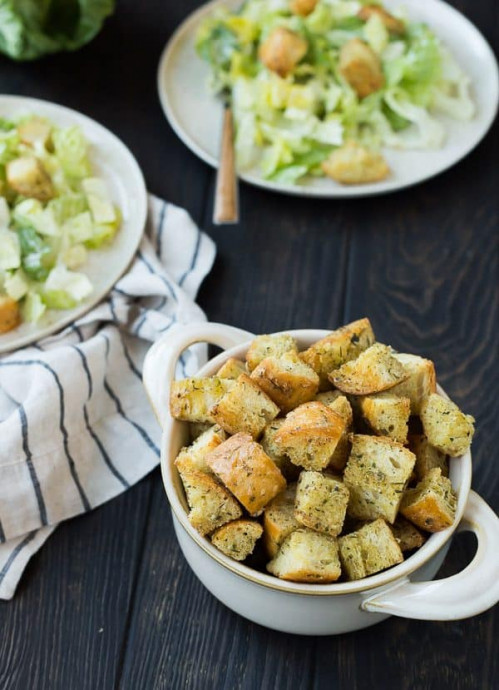 Caesar Croutons are the crowning jewel on a classic Caesar Salad and once you make this homemade version, you'll find yourself wondering why you ever bought croutons from the store. There is no comparison and they'll quickly take your Caesar Salad game to the next level.
Homemade croutons for life! When I first posted the recipe for the best homemade croutons, I had no idea how popular it would become. I absolutely love reading your comments about how making homemade croutons for the first time was a game-changer for you.
A Caesar salad is not a Caesar salad without the croutons, am I right? So you can either eat those crumbly dry croutons you buy at the store or you can bite into a perfectly crispy chewy crouton that will elevate your salad to a whole new level. There is truly nothing like it for sale at the store, but the good news is that these croutons are super simple to make and they'll finish baking basically in the time it takes to make the actual salad.
Like all the other croutons, Caesar croutons are also a great way to use up leftover or stale bread if that exists in your house. These garlic Parmesan croutons are flaked with herbs and have so much flavor for the perfect Caesar salad. I opt for garlic powder for a more mild flavor but if you're a huge garlic fan, feel free to mince a couple of cloves and go garlic crazy!
Ingredients:
1/3 cup extra virgin olive oil
2 tablespoons Parmesan cheese
1 teaspoon dried parsley
1/2 teaspoon garlic powder
1/2 teaspoon dried oregano
1/4 teaspoon sea salt
1/4 teaspoon freshly ground black pepper
1/4 teaspoon dried thyme leaves
4 heaping cups cubed white bread (I like to use a French baguette)