Healthy Keto Zucchini Bread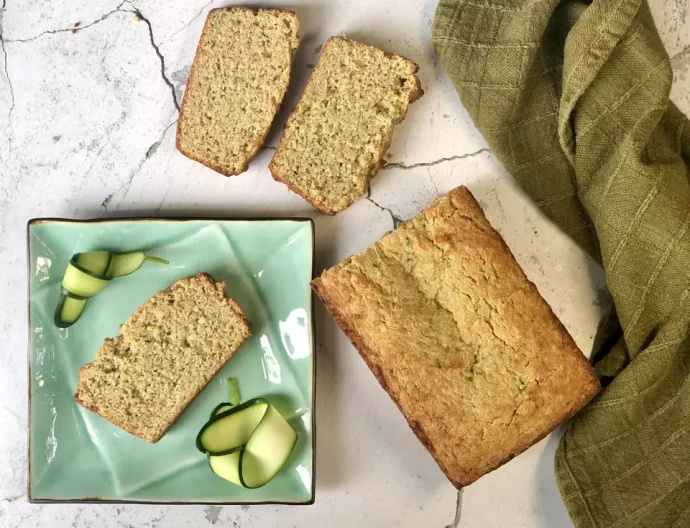 With this protein-packed, high-fiber, and low-carb zucchini bread, you can feel good about having a quick bread for breakfast or dessert any day. The dry base is a combination of almond and coconut flours. Almond flour provides bulk and has a light texture, while coconut flour offers binding and smoothness. We add sour cream for the fluffy crumb and indulgent mouth feel you crave from a sweet loaf, and a little more zucchini than the average zucchini bread to ensure a moist, vegetable-rich bread. The result is a sliced treat that is at once filling, sweet, and wholesome.
Due to the quantity of almonds in this recipe, which yields a thoroughly nutty flavor, we didn't add the walnuts often found in zucchini bread. If you'd like to include those, see variations below:
For chocolate chip zucchini bread, add 2/3 cups keto chocolate chips after the batter comes together, before pouring into the pan.
To make a chocolate zucchini loaf, substitute 1 tablespoon of coconut flour and 1/4 cup of almond flour for 1/3 cup cocoa powder.
For a nuttier bread, add 1/2 cup of walnuts or pecans after the batter comes together, before pouring into the pan.
If you have yellow summer squash on hand, you can substitute any quantity of the zucchini for an equal quantity of yellow summer squash. Just be sure to treat it similarly, draining in a colander after you grate it. For a slightly darker bread with a small hint of caramel flavor, swap the granulated Swerve for the brown sugar version.
Ingredients:
1/2 cups almond flour
1/2 cup coconut flour
1 cup granulated Swerve
1 teaspoon baking powder
1/2 teaspoon baking soda
1/2 teaspoon salt
1/2 teaspoon pumpkin pie spice
1 1/4 cups grated zucchini
3 eggs
1/4 cup sour cream
1/3 cup neutral oil (such as grapeseed, avocado, or vegetable)