The Most Amazing Pepperoni Pizza Dip Recipe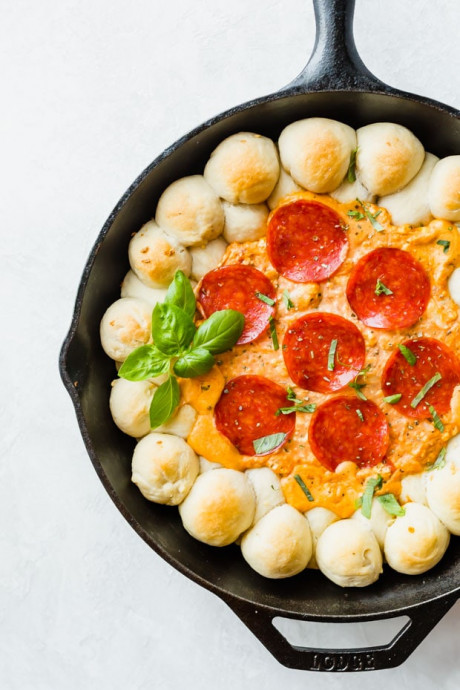 This skillet pepperoni pizza dip is super cheesy, creamy, and has a perfect balance of garlic, oregano and basil, giving you your classic pizza flavors! Little pizza dough balls along the perimeter of this hot pizza dip make for one of the best appetizers.
Skillet dishes and finger foods are honestly so much fun for me and my family! Whether it's my savory sausage dip or sweet cream cheese fruit dip, it's so fun to find new recipes to use fruit, veggies, chips or crackers to dip in!
You can use a spoon or whisk to mix the cream cheese/pizza sauce mixture. I used a hand mixer because it speeds up the process. You just want to make sure you thoroughly combine all of the ingredients.
Don't skip doing the pizza dough balls! Honestly, it is the enjoyable part of the dish. My kids love picking out a pizza dough ball from the skillet and dipping it in the middle. You can use regular sized pepperonis and cut them like I did or you can use mini pepperonis.
Ingredients:
18 oz pizza dough
3 oz pepperoni - cut into quarters (about 3/4 cup)
1 tablespoon olive oil
1/2 teaspoon garlic, minced - about 3 garlic cloves
8 oz cream cheese - softened
3/4 cup pizza sauce
1/4 teaspoon dried oregano
1/4 teaspoon dried basil
1 1/2 cups shredded mozzarella
fresh basil - chopped for garnish