Healthy Guacamole Recipe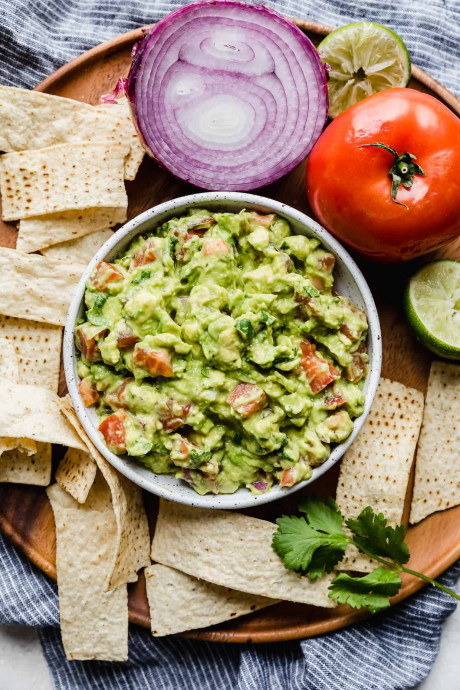 I'm excited to share my favorite healthy guacamole recipe! You can make the best guacamole recipe in just 10 minutes. It's loaded with avocados, cilantro, tomatoes, garlic, and onion — finished with a spritz of lime! I recommend this guacamole recipe to everyone because the difference between a mediocre guacamole and one that hits it out of the park is all about the ratios. Not too onion-y (check out a tip below that I do for the onions that makes a difference) and the perfect balance of lime and cilantro.
Serve this healthy guacamole with some favorite Mexican dishes like black bean and corn quesadillas, Mexican quinoa, and taquitos. Avocados: It's very important to get the perfect ripeness in the avocados you use. We don't want crunchy guacamole. See tips below for selecting the perfect avocado.
Onions: It's all about the color when it comes to Mexican food. I love using purple onions in my guacamole because the color pops and the flavor is just a bit more distinctive to a traditional yellow or white onion.
Feel free to add diced jalapeños and cayenne pepper to turn up the heat. Spices such as cumin and smoked paprika are perfect to use in a guacamole as well. The best rule of thumb is this: taste and season as you go.
Ingredients:
3 avocados - pitted and chopped
1/4 cup cilantro - chopped
1/4 cup red onion - diced (then rinsed in a fine mesh strainer)
1 tomato - diced (about 1/2 cup)
1 lime - juiced
1/2 teaspoon garlic - minced, about 1-2 cloves
kosher salt - to taste
pepper - to taste