Kale And Pear Salad With Yogurt Dressing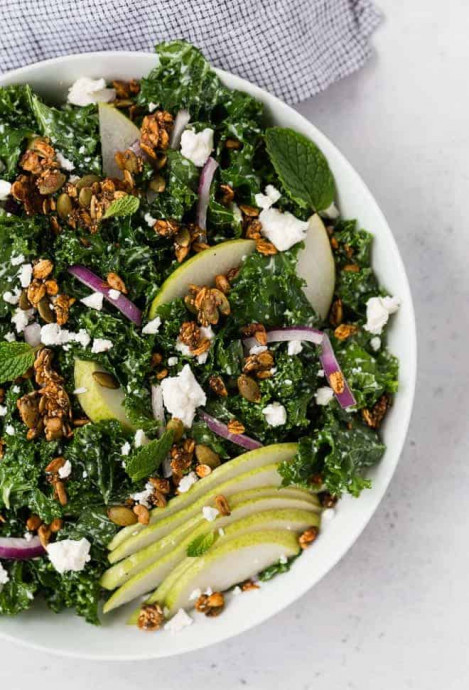 With the surprising addition of fresh mint leaves, this kale and pear salad combines tender kale, juicy ripe pears, briny feta cheese, and a sprinkling of savory granola, topped with a creamy yogurt dressing. I'll start with the dressing. The base of this dressing is plain yogurt. You can use Greek or regular yogurt, just so long as it's unflavored and unsweetened. Whisk in olive oil, maple syrup, fresh lemon juice, cider vinegar, and salt until you have a nice smooth creamy dressing.
This salad calls for 10 cups of washed, chopped kale leaves, loosely packed. Be sure to remove the tough stems before you chop the kale into bite sized pieces. Keep on reading to see how to make kale tender for a salad.
When you're ready to serve the salad, add thin slices of a ripe pear, rings of red onion and fresh mint leaves, either minced or roughly torn, and toss them with the kale. Sprinkle on feta cheese and savory granola.
Ingredients:
DRESSING:
¼ cup plain Greek yogurt
1 tablespoon olive oil
1 tablespoon maple syrup
3 teaspoons freshly squeezed lemon juice
1 ½ teaspoons cider vinegar
¼ teaspoon kosher salt
SALAD:
10 cups roughly chopped stemmed kale leaves (from 2 bunches), loosely packed
1 ripe pear, thinly sliced
¼ medium red onion, thinly sliced
2 tablespoons minced fresh mint, additional for garnish
½ cup crumbled feta cheese
Savory granola