Bacon Blue Cheese Burger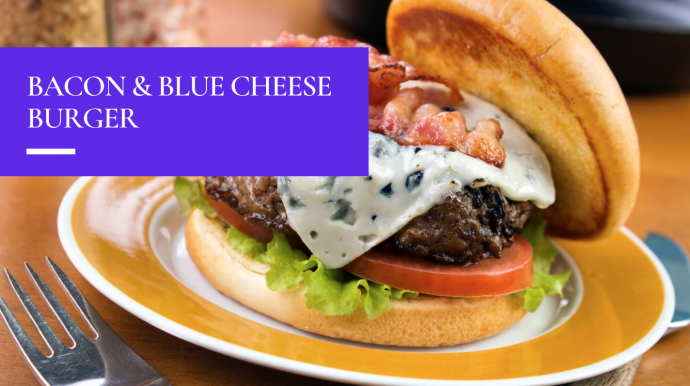 If you're looking for a great gourmet burger recipe, this one is for you! This flavorful blue cheese burger with bacon takes regular hamburgers a whole new level. Crispy bacon, tangy blue cheese crumbles and a spicy sauce turns up the heat and flavor! This could be the new favorite burger to make at home. And it is so easy to make!! Enjoy!
Ingredients
10 oz. ground beef
1 tbsp grated onion
3,5 oz lean streaky bacon, very finely chopped
2tbsp chopped fresh parsley
2½ tbsp salt
freshly ground black pepper
2 oz blue cheese
¾ cup arugula
4 brioche burger buns, toasted
1 tbsp mayonnaise
1 tbsp American mustard
curly lettuce / sliced tomatoes / red onion slices to taste
Directions
Step 1
Combine the ground beef, grated onion, parsley and salt in a bowl. Season with freshly ground black pepper. Gently form the mixture into 2 balls and then shape the balls into patties. Using your fingers, make a slight indentation in the center of the patties so the burgers cook evenly and flat, but try not to overwork the meat.
Step 2
Preheat a skillet, grill or air fryer to high heat. Cook the burgers on each side for 4 to 5 minutes, depending on how well you would like your burgers cooked. Top the burgers with some blue cheese and cook for another minute, until the cheese melts. Remove the pan from the heat.
Step 3
While the burgers are resting, spread butter or oil on the cut side of the buns and toast them in the skillet, grill or air fryer until they are lightly browned.
Step 4
Spread some mayo on the bottom half of the buns and top with arugula. Place the burgers on top and bacon and blue cheese. Add lettuce and a couple of slices of tomato. Add a burger then finish with red onions and mustard and the bun top.
Bon Appetit!