Fresh Banana Pudding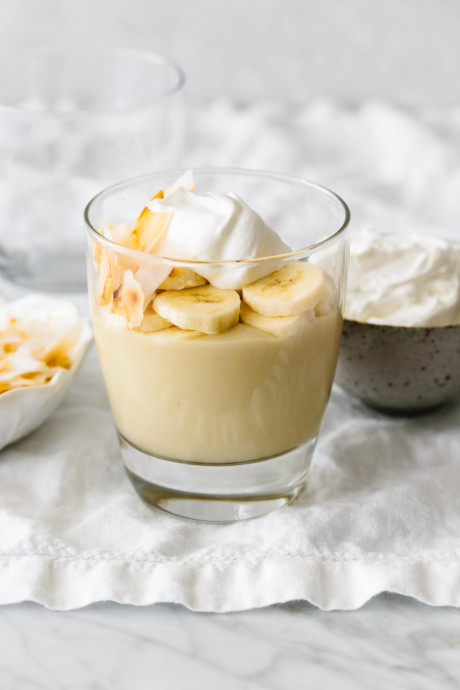 Banana pudding is one of those feel-good desserts that puts a smile on everyone's face. But unlike the Southern version that layers vanilla pudding, sliced bananas, whipped cream, and vanilla wafer cookies, I've created a fresh banana pudding. Yes, using real bananas in the pudding (and not just sliced in-between). Many traditional banana pudding recipes call for vanilla pudding mix, whole milk, bananas, and sweetened condensed milk. I have to admit, I expected that banana pudding actually meant banana pudding, not vanilla pudding with sliced bananas.
Trouble is, you can't cook banana pudding with real bananas because it turns an unappetizing pale gray. To get around this issue without resorting to imitation banana extract, I infused the pudding base with fresh bananas and strained them out before cooking.
Now on to the thickener. Since I don't typically cook with cornstarch, I opted for arrowroot powder, which is a great alternative. You could also use tapioca powder, but make sure to read my notes below. The addition of egg yolks turns the pudding a soft golden hue which beats gray any day. And once I replaced the dairy with canned coconut milk, I had a sweet treasure that's dairy-free and simple to make with a little advance planning. This is the best fresh banana pudding that infuses milk with real bananas. Serve it up with a dollop of coconut whipped cream and toasted coconut flakes for a tasty dairy-free and gluten-free recipe!
Ingredients:
2 1/2 cups full-fat coconut milk, from cans
2 teaspoons vanilla extract, divided
4 bananas, divided
1/4 cup arrowroot powder or tapioca flour
1/3 cup honey
4 egg yolks
1/4 teaspoon salt
COCONUT TOPPING
coconut flakes, unsweetened, toasted
coconut whipped cream