Chewy Granola Bars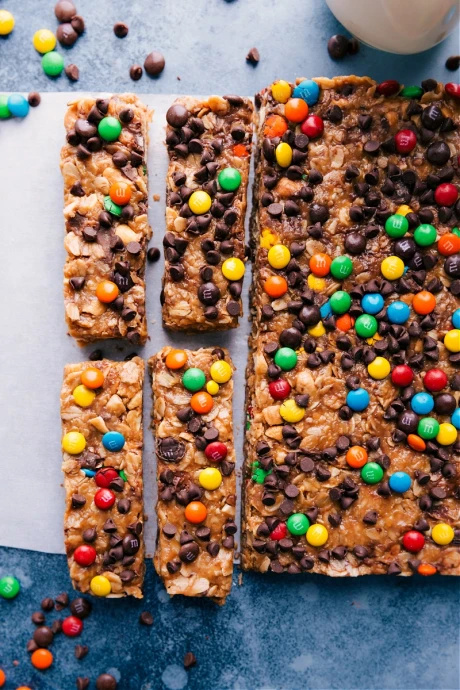 These simple (no baking required) Chewy Granola Bars are made with oats, cashews, honey, peanut butter, miniature M&M's, and chocolate chips.
This recipe copycats store-bought Chewy granola bars, but they're so much more flavorful and loaded with great, filling ingredients.
For extra flavor (without extra effort) use roasted and salted cashews in these bars. If you only have raw cashews, you can quickly toast them in the oven. (Toast the oats while you're at it!) Add the oats and cashews to a lined sheet pan and bake for 8-10 minutes at 350 degrees F, stirring once halfway in between. The cashews and oats should smell fragrant, but not burned.
Make sure to measure the honey and peanut butter to the top of the measuring cup and scoop every bit of it into the pot. Additionally, measure the coconut oil in its solid (not melted) state. Don't reduce the amount of honey, peanut butter, or coconut oil. Every bit of the syrup is needed to ensure the bars stay together. For gluten-free Chewy Granola Bars: While the ingredients in these bars are naturally gluten-free, make sure to check all your ingredient labels to verify they weren't processed in a facility with gluten.
Ingredients:
3/4 cup (163g) creamy peanut butter (we use Skippy)
1/2 cup (175g) honey
2 tablespoons (25g) coconut oil (measured in solid state)
1/2 teaspoon fine sea salt Note 1
1 and 1/2 teaspoons pure vanilla extract
2 cups (194g) old-fashioned oats (not quick or steel-cut oats)
1/4 cup (20g) shredded coconut
3/4 cup (100g) roasted and salted cashews, coarsely chopped (measured before chopping)
1/4 cup (53g) + 2 tablespoons mini chocolate chips, divided
1/4 cup (45g) + 2 tablespoons miniature M&M's divided