Caramel Macchiato Banana Bread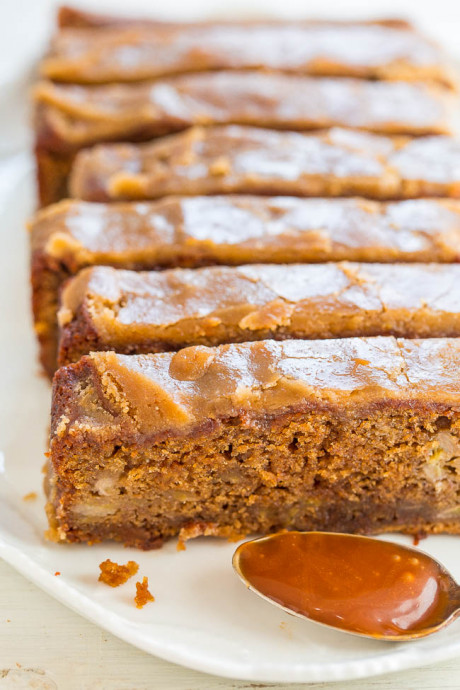 Caramel macchiato banana bread — caramel banana bread that tastes like a caramel macchiato!! Soft, tender, infused with salted caramel and topped with a brown sugar glaze!! Easy and irresistible!!
I love banana bread so much and have so many combinations including carrot banana, peanut butter apple, zucchini banana, blueberry banana, cream cheese filled, and 40+ more. But this is the first time I've introduced coffee, or rather espresso, and caramel into it. What was I waiting for? This is possibly my new favorite doctored-up banana bread recipe of all time. That's a big statement for me.
Since I also love caramel macchiatos, this recipe is a total winner in my book. I hoarded most of this loaf for myself.
Between the espresso and the salted caramel I swirled in, you've got yourself an edible caramel macchiato.
The bread is super soft, tender, extremely moist, and bursting with layers of flavor. It's like a warm fuzzy blanket on a cold day. So comforting and satisfying.
Ingredients:
Bread
1 large egg
1/2 cup light brown sugar, packed
1/3 cup canola or vegetable oil
2 teaspoons granulated sugar
1/4 cup cup sour cream (lite is okay; or Greek yogurt may be substituted)
1 tablespoon instant espresso granules
1 teaspoon vanilla extract
1 cup all-purpose flour
1/2 teaspoon baking powder
1/2 teaspoon baking soda
1/4 teaspoon salt, or to taste
1 cup mashed ripe bananas (from about 2 medium/large or 3 small bananas)
1/4 cup caramel or salted caramel sauce (use a thick caramel sauce not a thin and runny ice cream sundae sauce, try Trader Joe's or homemade
Glaze
6 tablespoons unsalted butter
6 tablespoons light brown sugar, packed (1/4 cup + 2 tablespoons)
1 teaspoon vanilla extract
pinch salt, optional and to taste