Quinoa Fruit Salad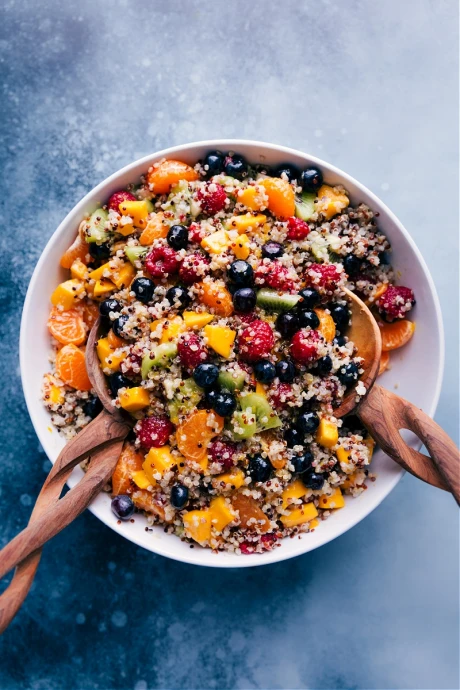 Fresh and lively Quinoa Fruit Salad starts with tender quinoa and loads on fresh fruits and a tangy citrus vinaigrette. Ripe fresh fruit, tender quinoa, and a tangy citrus dressing are pure summer bliss in a bowl.
I love a good fruit salad recipe as much as the next person but adding some quinoa to the mix has resulted in a salad that has quickly become a new staple in my home. The quinoa adds tons of protein resulting in a salad that is surprisingly satiating. It also adds texture, a subtle nutty flavor, and vibrancy to the fruit and citrus vinaigrette.
While this salad likely doesn't stand on its own for a meal, serving it with some grilled chicken or grilled steak makes for one of the best summer meals — fresh, light, nutritious, and flavorful!
Ingredients:
1 cup (180g) uncooked quinoa (I use tri-color quinoa)
1 large mango or 2 small honey mangoes (~1-1/3 cup; 215g), peeled and diced
1 container (6 oz.; 170g) raspberries (~1 heaping cup)
2 kiwis, peeled and chopped
4-5 clementine oranges, or Cutie,s peeled and segmented
1 heaping cup (175g) fresh blueberries
Dressing
2 clementine or Cuties oranges (2 tablespoons juice and 1 teaspoon zest)
1 large lemon (1 tablespoon juice and 1/4 teaspoon zest)
1 tablespoon + 1/2 teaspoon honey
1 teaspoon Dijon mustard
1/4 cup (48g) extra-virgin olive oil
Fine sea salt and pepper (I use about 1/4 teaspoon salt and 1/8 teaspoon pepper)