Healing Green Smoothie Bowls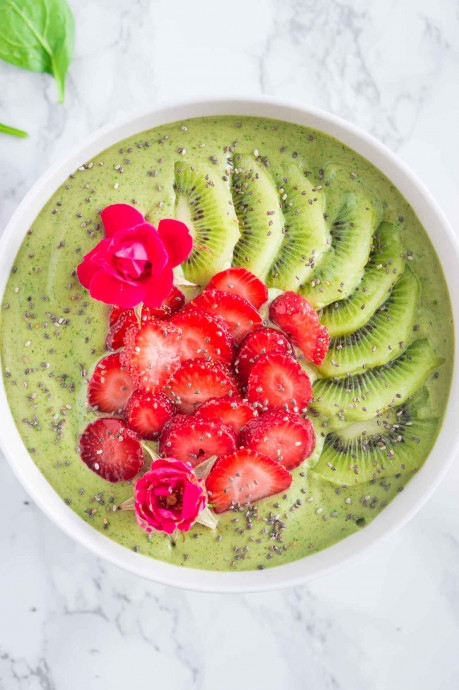 Healing Green Smoothie Bowls – a delicious and nutritious green smoothie in a bowl. The perfect way to start the day! It takes only 5-10 minutes to blend, and it's made with just a few ingredients.By now, you've probably heard about smoothie bowls. They are the perfect healthy breakfast or quick-and-easy afternoon snack or dessert – packed with nutrients that will keep you energized all day long. They have the texture of a smoothie, but you can get creative and add a variety of health-boosting toppings like flaxseed, granola, chia seeds, fresh berries, nuts, coconut, or even a little bit of dark chocolate to turn them into a heartier and satisfying meal.
And aside from being delicious, whipping up a smoothie bowl is an opportunity to get creative. Whether you pack yours with green veggies like spinach or opt for a sweeter bowl with berries and nuts, the possibilities are truly endless! Unlike some veggie-filled green smoothies that taste like grass, this recipe, featuring avocado, banana, kiwi, spinach, cinnamon, ginger, tahini and maple syrup, has such a delicious taste, you will gobble it up. Top it with sliced kiwi, strawberries and chia seeds, for the perfect finishing note. These healing green smoothie bowls may very well revolutionize your morning routine. They boost your immunity, energize you and nourish your body with superfoods to make you feel amazing!
Ingredients:
2 frozen bananas
1/2 avocado, , skin and pit removed (see notes)
1 kiwi, , skin removed, plus extra slices for topping
2 slices peeled fresh ginger, , or 1 tsp ground ginger
2 cups spinach leaves
1 tsp cinnamon
1 Tbsp tahini or creamy cashew butter
2/3 cup coconut drinking milk, (see notes)
1-2 Tbsp maple syrup, , or honey, plus more for topping
2 tsp green powder or spirulina
1 Tbsp flaxseed or chia seeds, , for topping
sliced strawberries, , for topping